Sorry to have update this post so late coz I want to wait till everyone upload the photos first! (But apparently not everyone has upload the photos then my one and only fans rushed me to update it already geez.)
When we first knew our faculty night is themed Vintage, my sis suggested me some Audrey Hepburn-style vintage:
Most people will want to go in retro vintage, but since I couldn't find any of it so I changed my direction.
That afternoon, we went to Cai Yi's house to do our hair and make up since we had practice for a few times and finally know how we wanna dress in. It took us for roughly 4 hours to settle everything!
On the way to Waterfront Hotel Labuan
This is when we reached the hotel: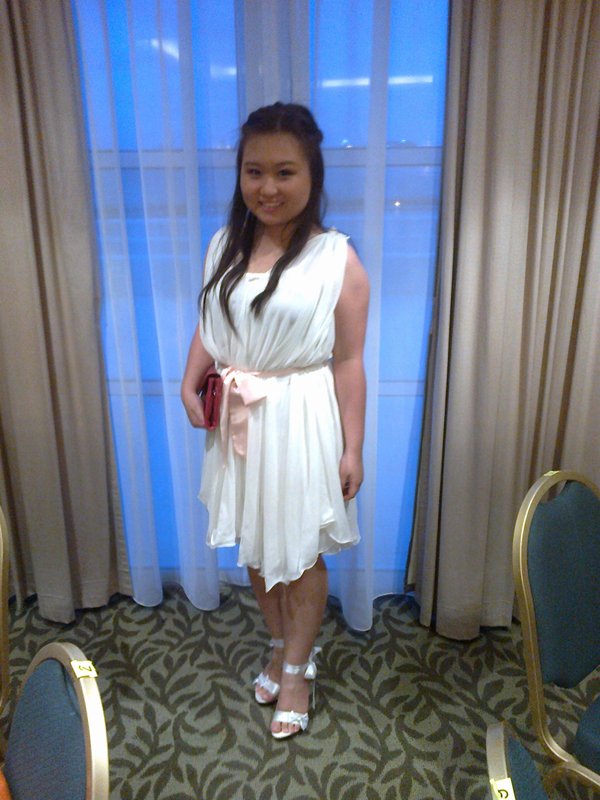 Dress: New
Hair: New color!
Purse: 1 year old
Shoes: 2 years old
I don't care whether it's vintage or not dy. I'm going as a Greek goddess! Bwahahaha (buay paiseh) xD
This is Cai Yi:
Hair: New color!
Dress: New
Shoes: Wore only once
Don't have ahdi's solo picture, what a shame. She's very pretty leh.
Some photos taken before the dinner started
Door gift: Fan and lollipop
Table decor
After the event started, they announced the winner for candidates of categories like "Mr/Ms Congeniality", "Mr/Ms Charming Smile", "Mr/Ms Leader of Tomorrow" etc. Guess what? Before this night, Cai Yi already asked us to vote for her as "Ms Charming Smile". Of course we did support her! And there she goes, won the award for Ms Charming Smile! (And she turned laughing instead of smiling already :x) Too bad it all happened too fast I'm not able to take a picture of her taking the award.
And then the Dean's List students - Ahdi is one of them!!!
All the friends I know are pandai-pandai belaka leh!!! In high school I have Yin, Jann and Kuan, now I have ahdi in university! *proud of them*
One of the performance were singing and they showed this video:
which has 2 pictures of me kissing 2 of my friends. Damn. Now everyone might seriously think I'm a lesbian already
I'm considering to go up the stage to give away flowers since Cai Yi and ahdi went up the stage already. And I don't think I have a chance to go up there coz I'm not a good grade student nor a prize holder. Then ahdi dare me! But nothing to give in return if I took the dare so eventually I didn't go up.
The eating part is censored because we gobbled down the food so ugly we ourselves couldn't even bear to see it too. xD Nah joking la just no one remember to take a picture of that. Well I think the food are just OK only. No additional comment. Nais dessert though. So chocolaty that I think I'm going to have sore throat :p
And then! There goes the lucky draw session. Just when I thought I won't have a chance to go up to the stage, I won the last lucky draw prize!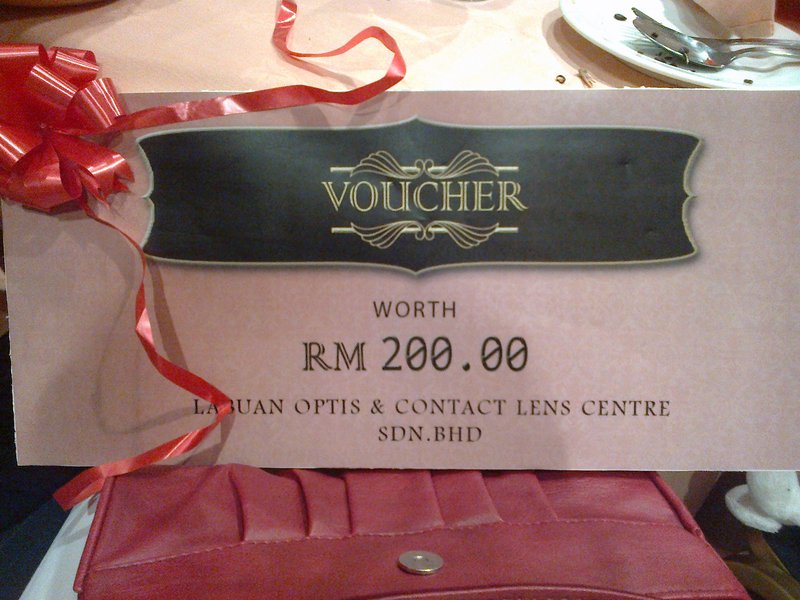 Zadou lor! Cai Yi and ahdi prayed so hard to NOT get this prize coz they knew it will be something to be redeemed in Labuan. And then the prize goes to me -.-" Don't know whether am I lucky or not wtf.
And after the food and prize giving
(We didn't get any FYP prizes)
It's PHOTOGRAPHY TIME!
With one of our FYP examiner, Madam Ainnur
Photobombing:
Wtf
With ahba:
And finally:
Spot me
Oh forgot to mention about prom king and prom queen. Don't know how they vote wan la more people are more eligible actually. For example I think Nazrin is more "vintage" lor:
Nazrin with Pei Jie
Haiya I looked fat in most of the photos so sad. I gave up on myself (in slimming down) already la wtf. PLEASE ACCEPT ME FOR WHO I AM wtf. Ok la that's all for this event.
Photos courtesy from Cai Yi, Pei Jie
More photos here: Ying Ying, Wei Wei, ahba