Starting my first sharing post so please 多多捧场 ribuan terima kasih! And a short story of my Guesser experience below.
Let's start with something less superficial and more in depth first wtf.
1. Incitement: What Books Moved You?
#soulmate already included all the details in her blog. All you have to do is just click the title and you'll be redirected to the right page =)
Ok here's a summary if you're too lazy to read such a long article or you've already read it, I'll just refresh your memory of what is this about. In this event, people share their life changing moments after they read a book (of course there are a lot of things one do will change their life but in this context we're talking about books). Also this event is meant to help the Fugee school so if you have "the book" with you, do make a copy of it and donate to them - you'll probably inspire the kids too, with your books! Do scroll till the end of the
entry
to know how to go to the place.
Now let's move on to something less in-depth.
2. 8TV's The Shout Awards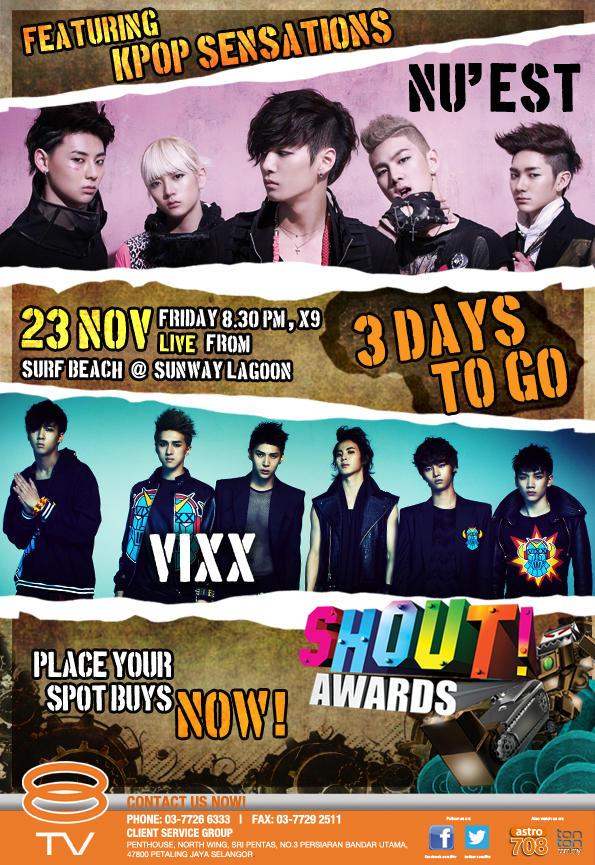 I stumbled upon this when I was searching for contests under
Nuffnang twitter
. I think I'll send my details if I'm not otherwise engaged on that day

Just email your full name and blog url to darren.low@nuffnang.com (I suppose you'll have to be a nuffnanger to be part of this... hm.) and the staff will arrange it for you.
OK move on to the last event that I know and am going.
3. Baskin Robbin Finale
You get to eat free flow Baskin Robin ice cream, you get to see some of your favourite celebrity bloggers! Come over
here
to see what you can do to win the invitation!
Yes, I'm invited and I'm going to ruin my diet with this event WOOHOO! I don't only win movie passes ok! Now I won an invitation to go to an event! My life is finally happening for once... #okay.jpg
• - - - - - - - ๑ ۩ ۩ ۩ ۩ ۩ ๑ - - - - - - - •
Scumbag #soulmate tested me with Asker-Guesser theory (read XiaXue's
entry
for the definition) and she found out she really can make me do anything if she could conquer all my excuses SCREW YOU #soulmate SCREW YOU!!!
If you've read the article, lemme tell you I falls in the Guesser category. Maybe sometimes I'm a bit aggressive that I'm consider a passive Asker, but most of the time I'm a Guesser.
So this is the story:
She's the "inspirational" one while I'm the "superficial" one. After I told her I'm going to Baskin Robin event, she asked me to go to the Incitement's event as though she didn't notice the date I'm attending it but since I've already RSVP for the Baskin Robin event so I reminded her the date again and rejected her. (<--- Nah I've already rejected her ok! ... Maybe not firm enough #okay.jpg) Then she started to look for solution for my excuses- she said I can attend to another event after one. I said both event started at the same time, she said I can actually go Incitement at 9pm. I said both the places are totally different direction and it's not possible for me to attend Incitement coz papa is the one driving, she said I could bring him and erjie along. Also she mentioned that "got heart jiu can go" wtf. So I gave in and said ok I'll ask papa and erjie.
Ok story ended. She didn't push me further to go coz this was a test. And from my reply she'll be expecting I say "nope I won't be going coz dad and sis didn't want to go" wtf. Hey #soulmate if you're reading this, SCREW YOU AGAIN. No wonder suddenly she pushed me a bit harder than usual. She'll usually add "no pressure" at the end of her requests so that I can say "no" to her easier if I really didn't want to commit to it. Know what's the problem here?
IF GOT HEART jiu can go
. Wtf. You say till liddat then how can I possibly turn you down directly on your face you say la you say la!!! Also this is a meaningful event that people should attend it rather than some shallow weight-gain ice cream event wtf THOSE WHO ATTEND TO BASKIN ROBIN FINALE PLEASE DON'T BASH ME THIS IS JUST MY PERSONAL OPINION *coward*
I mean, how can you reject one's request when that person has already figure out ALL the possible solutions for you! Somemore it's such an inspiring event to go to! T.T That's why I find it easier to shift the responsibility to say no for other people rather than saying no myself. I think my reply has a pattern lo if I say "SERIOUSLY?!?! OK OK I'll arrange" or anything positive then you can expect a 'yes' but if my reply is something like "Hm ok I'll consider it..." or anything negative then you can expect a 'no'.
Haiz I know I'm terrible la ='( I should hide in a cocoon and never ever see anyone out there anymore wtf. Kthxbye.