I believe in karma wan.
So I helped my sis's friend to court a girl by giving out my premiere screening tickets I won with my precious luck to them.
If you know what I'm trying to say
Won this premiere screening ticket from Nuffnang.
Question by Nuffnang: If you were to court a French guy/girl that you've just met, how would you do it?
Thankkiu Google Translate!
Question by Churp Churp:If you could choose a song to represent your dream, what would it be and why?
Actually hor I wonder can one person win from both Nuffnang and ChurpChurp then I can invite 3 friends to watch with me ahaha so greedy :p but I think both the companies will cross check la so they can invite more of their people (as in churpers/nuffnangers la) to watch. Right anot right anot???
Nev'mind I went to watch My Sassy Hubby nevertheless.
王祖蓝 very funny la hahaha
When I reached home, I saw Nuffnang and ChurpChurp apologized to audiences who watched Les Misérables. Turned out they had technical problem and they couldn't watch the movie! Kesian erjie's friend we watched so many times also nothing happened then her friend watched premiere screening for the first time then got technical problem fhl wanna kao-lui also cannot LOL.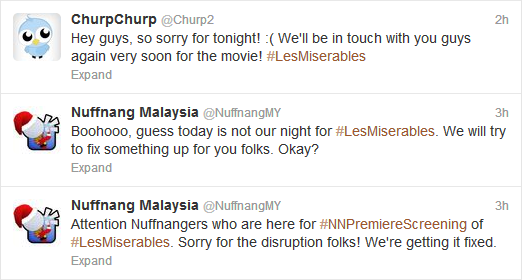 But Jackie said he had a nice night la so at least it make up for the movie issue lor.
Btw I got a 2013 planner for purchasing popcorn!
Also also GSC has a surprise for the audience!
I checked mine jor, nothing wor. Maybe next time la heee :p
Sleep tight sugarpies!