Warning: This is one long-ass entry. You're warned wtf.
This morning I woke up with this at my doorstep!
A mail sent from Singapore! #gasps
No la it's not my secret admirer heh.
It's the Rachel K CC cream sample! :D
Don't know what's the difference with BB cream la but seems like more skin-friendly whatevs. Read Cheesie's
entry
ba :p
Not bad leh I just used half of it then can cover my whole face dy.
Ok ok I should get to the main point.
Like I said - It's sing k time WOOHOO! Get to sing k, all my miseries have to be put aside!
ZOMG I ALMOST CRIED WHEN I HEARD #soulmate SING
Singer of the day... And her sidekick bf!
He also can sing very well eh!!!
Special guest of the day!
Had to 软硬兼施 force him then only he open his mouth -_-
So sad la the session just lasts for 3 hours and ended. :( But can't do anything also coz omg we couldn't think of what songs to sing!!! #gasps Are we getting old?!
And then #soulmate almost made me cry again with her c-weet CNY card + pressie...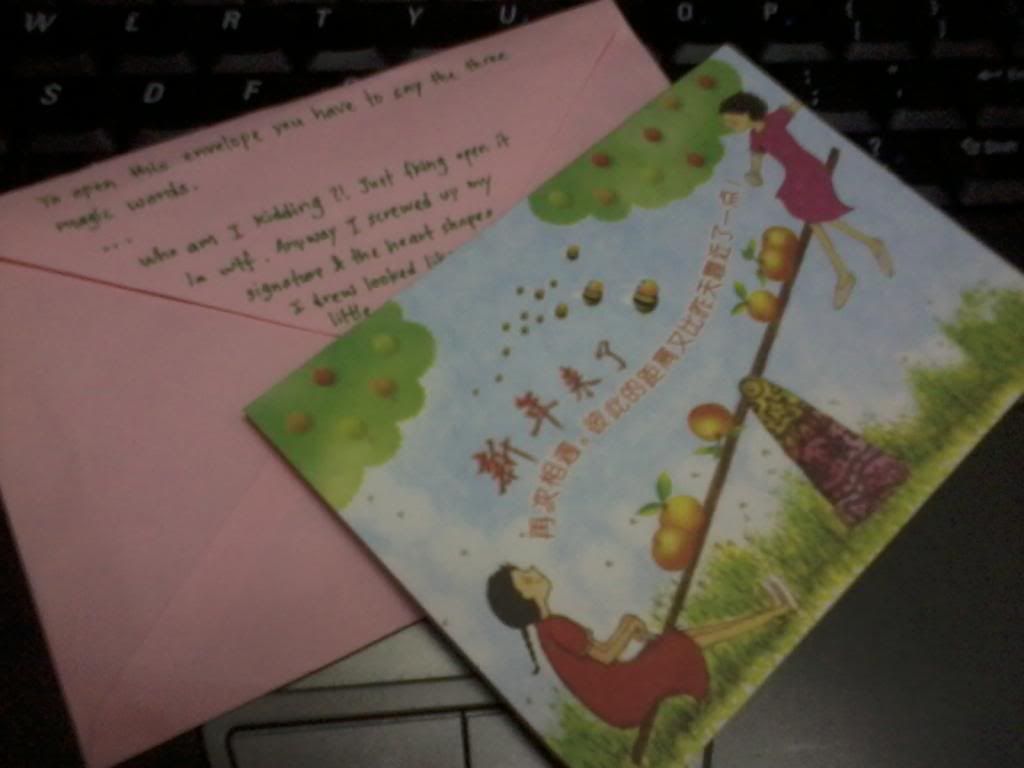 Dafuq la I gave her the calendar only lasts for one year... She gave me this pendant can use until I don't want to wear anymore (ahaha) WHY ARE YOU DOING THIS TO MEEEEE...
At first I thought we can watch movie or what geh coz I really scared the movie will be take out of the cinemas and then no more movies I can watch using the complementary passes dy ahaha ya I'm that kiasu thanks but all of them need to go back hometown so suan lo I went home rest a bit first.
Alright then it's time for the dinner!
I went to Kuan's house first la.
Another hearty CNY card!!!
Taken with my Hello Kitty phone before going to the restaurant
(coz I showed off my phone... Blow meh? :p)
Despite all that. We ate, we talked, we took pictures.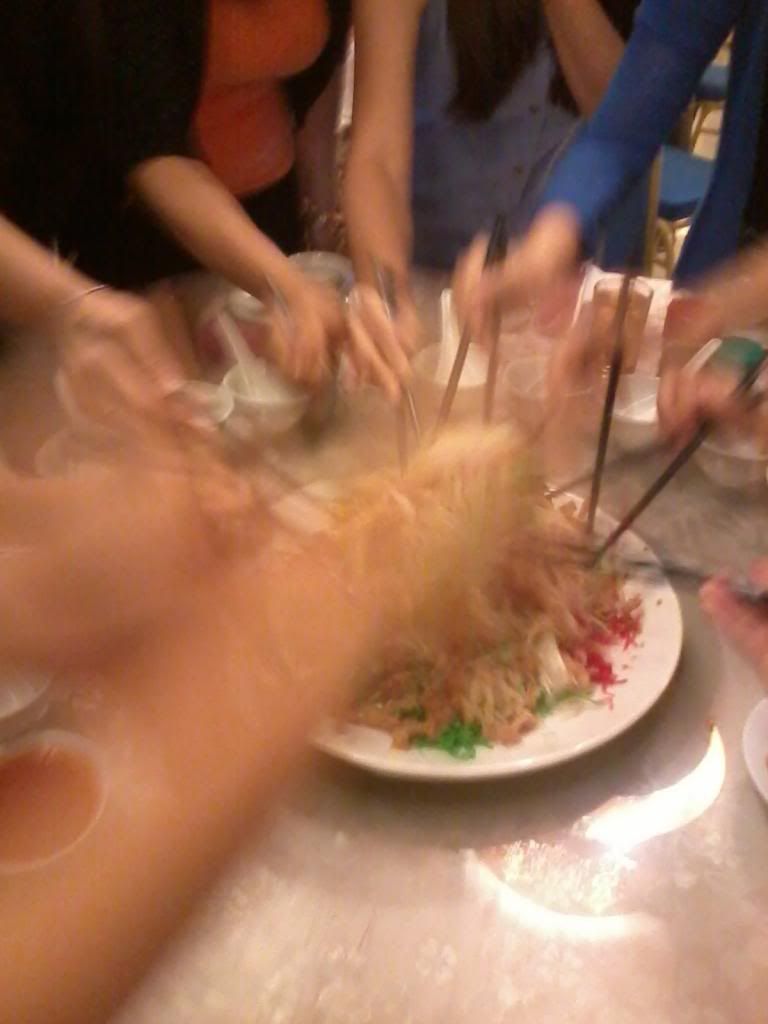 Huat arr!
And we gobbled down all other food before we could take any pictures ahaha.
Girls~
After the dinner, Yin, Jann, Kuan and me went for second round at Boston 又一城~
And I ordered a super large drink so it can last for the whole conversation LOL
Dafuq I looked like a vampire (see nails wtf) it looked like I'm feeling unbelievable coz the drink I ordered wasn't blood LOL
Sorry ah I have to stress again I'm delusional. You're welcome.
Another view
So large even Yin and Jann wanna pose with it LOL
My Bostea was really sweet la I asked them to add some ice to dilute the drinks but still sweet :( And after ice was added it became full again -_- it just looked like I drank 2 full bottles wtf.
And that should be the end of my day! Thanks for reading! Me love you too! Have a sweet dream! :D