Sorry sweetiepies I haven't been updating my blog. It's a critical period for me right now.
But looking at my drafted entries I felt like I have to update one or two, otherwise if it's dragged for too long, it'll end up like #soulmate's empty convo entries. Human tend to forget very fast. (yea #soulmate I'm picking on you again where's the rest of your Project 365!)
Well... It was my big day and I didn't pass it. So some advice from my colleague is that I shall cut down my online activities and work more.
Someone's advice more yeng
asked me to tear confirmation letter HAHA badass anot!
But I also badass ok! I'm still updating blog here!
During lunch hour on this day I didn't wanna see my colleagues coz I'll have pressure PLUS I need to get my Bullet To The Head prize so I went to Nuffnang's office.
Q: If you had to work with an enemy to get revenge, would you do it, and why?
Contest here
Did I miscomprehend the question? Coz now that I read my answer, it sounds like I didn't understand it at all @@ But anyhow... I've got 3rd prize leh!
Purposely went to Nuffnang's office to get this Bullet to the Head necklace...
It's been a long time since I won a premiere screening. The last time was... One month ago! Fuh that long @@ Thanks to #soulmate, I get to watch Oz with Jann! (Ok soree #soulmate that I picked on you. Please win more tickets in Mid Valley and give it to me thanks wtf)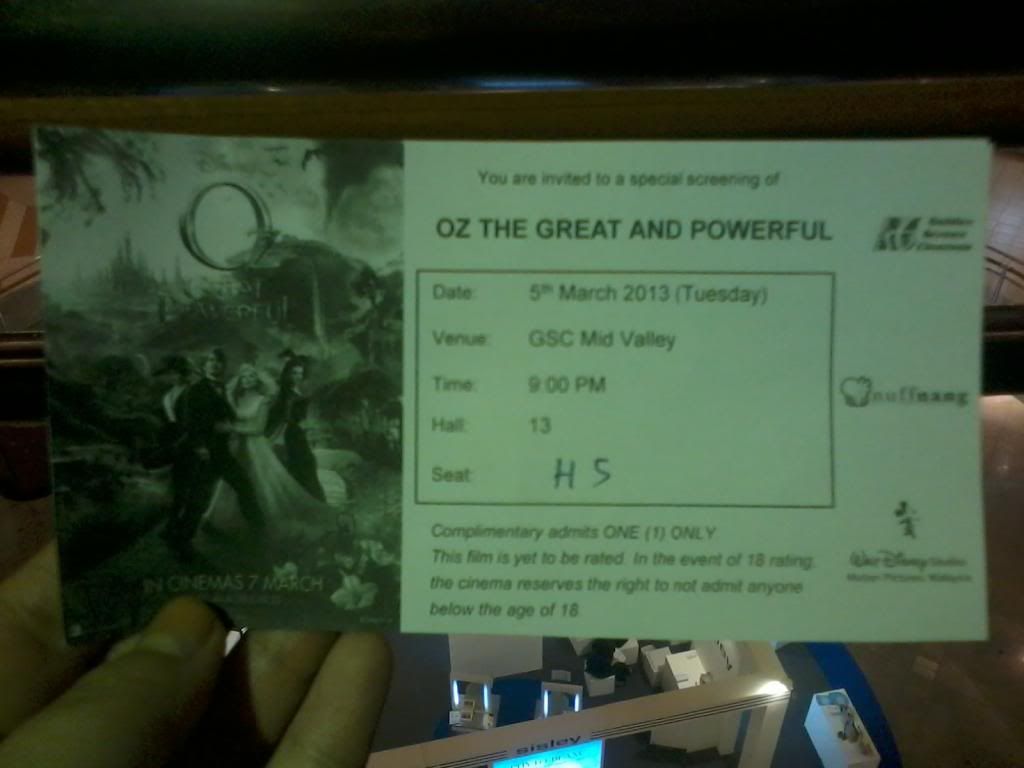 Met Diana and she got First Prize! O_O That iPhone 4 case looked very yeng leh.
It was very strict leh we had to deposit our devices before entering the cinema... Tim said it was because we watched it before it's released in US whoa! (
#121
)
Saw Tim and Aud in cinema and we both were so excited like don't know what wtf ok it was me only but I die also wanna drag Jann :p This is what friends are for right wtf!
[spoiler: highlight texts to reveal]
I tell you hor. When Oz were introduced to the good people of Quadlings, Tinkers and Munchkins, I've already have that idea of asking them to create stuffs to intimidate the bad witches. So... Oz is not very clever also ha. Then hor. Both Theodora (Mila Kunis) and Evanora (Rachel Weisz) eventually turned into ugly bad witches. But Theodora is not really ugly lor. She's just having a crooked nose, green skin color and pointed chin... Unlike Evanora she has a big zit on her nose, wrinkled skins and her hair turned grey. Typical ugly bad witch. Somemore Theodora have no own opinion wan. Oz just commented that in his point of view, witches should fly on a broomstick. And when Theodora turned bad, she really got herself a flying broom.
Waddafuq. And no, Oz didn't turn into unicorn. No unicorns were involved in this movie.
Till then!