As I've mentioned in my previous post, #soulmate was sad so I suggested her to go online shopping therapy, but she had no idea where to check. So I've decided to become #goodgirlgina (I'm not going to make sammich to ease her sadness thankkiu) and share the links that I went online shopping bwahaha.
Things I shared might be a bit lame la but READ AT YOUR OWN RISK! I'm not going to be responsible if you're unable to control yourself and make huge purchases. You're welcome.
Oh btw. I didn't receive any rewards/pay to write this entry ya.
1.
eBay
Impulse purchase:
RM40 (Free shipping)
The
fella
seller told me it's pink and it does look pink in the picture. But she didn't tell me it's kinda faded so it looks white now. -_-
This is an isolated case, coz I didn't think through when I made the purchase. Don't forget, I had a great purchase on eBay (although I didn't bid it on my own) - My Note 2! <3 Somemore no worry la you can rate the seller after you receive your stuffs and let other people know why you're happy/upset with the purchase.
There are a lot of different stuffs you can buy there la. Just make sure it's within your budget and you trust the seller, especially pre-orders.
2. Facebook Page
If you search properly, you'll be able to find a lot of online shops. Shoes, clothes, accessories, contact lenses... I used to buy on Facebook for my Prom night. But now I only check on contact lenses because... clothes won't fit on me anymore
Impulse purchase:
So happen that a friend of mine asked me for the link of Facebook shops that sell contact lenses: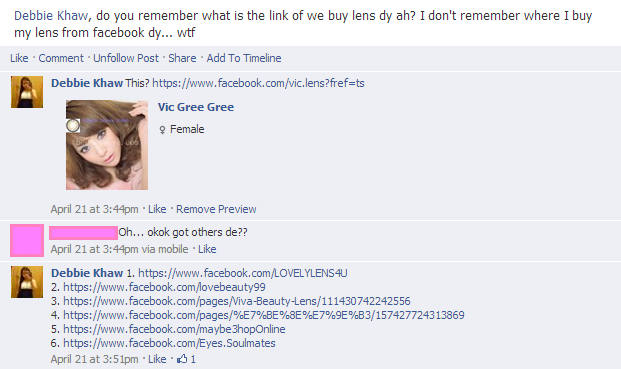 There you go.
3. Beauty boxes
For people who likes to receive presents/surprises, you may consider beauty boxes. Other than
MIVVA
box, there are also similar sites like TheLilacBox, Bag of Love, Wonder Box, etc etc. Just Google search "beauty box in Malaysia" and you'll be able to get the list of popular beauty boxes available. Maybe you'll be able to compare which is more suitable/affordable to you too =)
Impulse purchase:
MIVVA beauty box (July Edition), 6 months subscription, RM228 (+570 points), free shipping.
Now I check back, 6 months subscription can only get 400 points ahaha :p
4.
Big Sale
There are a lot of other sites that offers great deals, like GroupOn, Jackcow, Hulala, Streat Deal, Milkadeal etc etc... But everything is already included in this site - Big Sale is like the summary for all the deals.
Impulse purchase:
Iron Man / Captain America (shield) flash drive RM39 each, free shipping with 1 year warranty.
I supposed it's bought in Streat Deal via Big Sale.
Captain America shield is sanjie's.
Korean Leather Molang Diaries, 3 for RM65, free shipping.
From ILoveDiscounts via Big Sale.
Mint color's is sanjie's.
5.
Deo Gloria Beauty
I'm not really a fan of nail arts but I do paint my nails occasionally. Since 3 years ago when I was in university under senior's influences, I started to paint patterns on the nails. Seniors' influence is big hehehe.
Here's the collection over the years: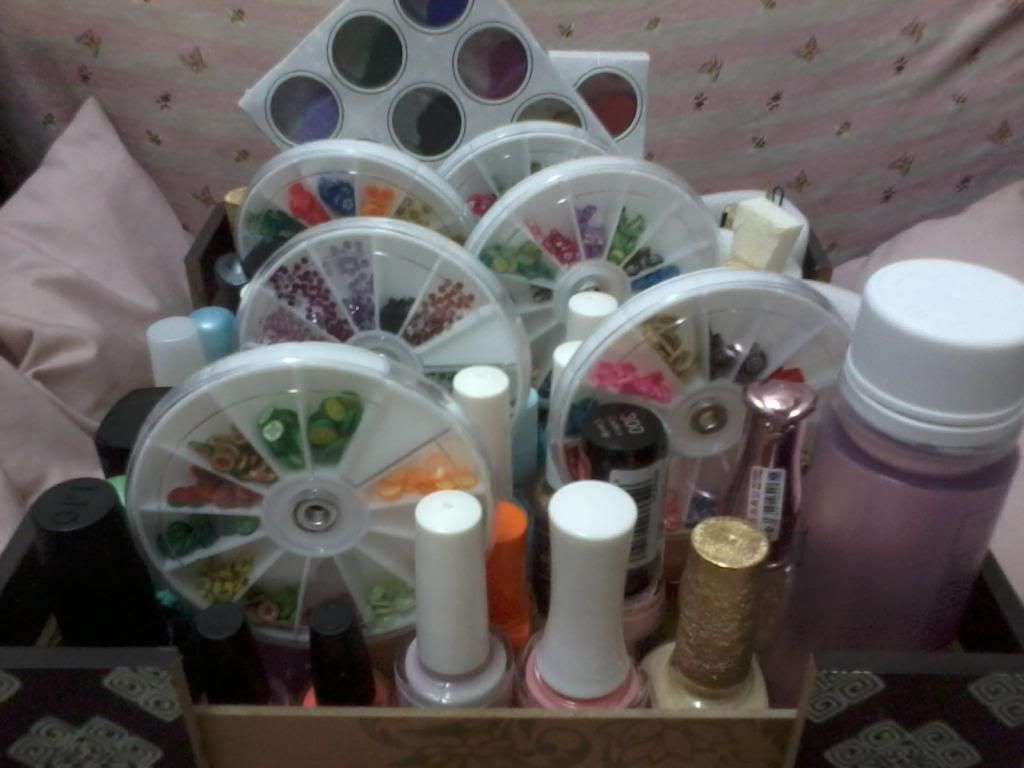 Erjie joked that I open manicure shop lol
Well, not all are from Deo Gloria Beauty, but most recent ones from them are the platters and flocking powders. It's the new trend, the flocking powders and caviar! But I don't really like caviar la. Other nail polishes are from The Face shop, SASA, Elianto, etc etc, anywhere that you can see cheap nail polishes or which the shops are having promotions.
Btw. Deo Gloria Beauty has temperature/light changing nail polish! Cool anot you say la! But one bottle is around RM35/RM37 so. The shop owner is very helpful and attentive =D she suggested to me that Malaysia is having hot weather so it's not recommended to buy the temperature changing nail polishes. They allow restock request too so if the item you want is sold out, make a request and then they can restock for you. There are other items like clothes and accessories and stationery also but the main selling items are nail tools.
6.
Lazada
I've only bought cameras from this site so far:
RM25 each, free shipping
If not mistaken, the shipping is free for purchases over RM100. First time user will have discounts tim! If not mistaken la.
There are definitely more sites than I can list them out... The key is to buy things that you NEED instead of WANT. (以上是不良示范,姐姐有练过哦,小朋友不要学... lol) Better to get someone beside you to give advice la. I saw a Hello Kitty keyboard + mouse for like hundred something... Luckily sanjie stopped me. If not I'm sure will mad at myself now coz I don't even need an extra keyboard and mouse wtf. Also plan your budget nicely so you won't overspend. If it's a pre-order, be sure to consider the credibility of the seller, and whether you're ok to pay first and receive later. Here's a small tips: if you realize, things I bought comes with free shipping. ;)
Jeez... After this entry I think erjie's look at me will be weirder. Like I despise human contact and only shop online wtf.