You know, no one bloody listen to me. I said check firewall, people keep saying "nah no need la this is how it goes blah blah blah". Now I've gotta do second deployment at this ungodly hour. GRRR!
Since I have 2 hours to go, might as well update the blog a bit.
* * * * * * * * * * * * * * *
Lemme digress first. Last Friday (Before the Horror Fest) I went sing K with my colleague! AT NIGHT! You know what that means? Over overspend!!! I thought I'll eat a lot to compensate but then I thought why must I make myself fatter and then spend more to slim down wtf and then I have to keep on diet because I ate too much in the first place so I thought I'll eat moderately but sing as many songs as I can! XD
I hope my colleagues don't think I kisiao la coz I've been singing a lot of songs they don't know then seems like I've been keeping the mic for myself ahaha. My teammate lagi kisiao! Keep shouting nia. LOL.
Group Photo 1
Group Photo 2
How say also colleague, better respect xia their privacy la. I'm tagged so if you can see from the fb link above, go ahead ba. I was singing Aaron Yan's 纪念日 while taking the photo. Haha! Pro leh?

Ahdi got feel proud anot! I sang your hubby's song leh! If only you can hear audio from picture.
* * * * * * * * * * * * * * *
Weeks ago, erjie saw this
living social deal for hair
and asked if I'm interested. I checked and found hey! They do not charge extra for longer hair length!
So I've been thinking to dye my hair blue. But that day the hair stylist told me if I dye blue, I've gotta bleach my hair and that's an extra RM180 =( So I rather dye purple.
Me is happy coz long time didn't hang out with erjie ady =D
Her hair color damn nice! I regretted for not choosing light color.
Light brown! Damn nice can!
See mine! Only got that subtle hint of purple. Hmph!
If you can't see that hint of purple, it's either your computer sucks or you're color blind.
OK la I dyed the wrong color. I sucks. #sourgrape
Doesn't show much of the color actually.
Hair coloring + cut + wash + blow, RM130 for 2 pax!!! I get to curl my hair somemore!!! =D
We did it in Secolo Hairdressing in Times Square. Took around 3 hour altogether!
Erjie brought the car back!!! Not back per se la but I drove the car back from Times Square! Fuh it's been long since I drive leh =D
So anyhow it's already 3pm+ when I reached home so I immediately changed and makeup!
GSC Horror Fest here we come! =D
Look alike anot???
Pardon the messy background
I got prop somemore you know!
Alice Madness Return Knife! Made from paper
DIY guide
here
. Download both! The .pdo file and the software to open it. Siao leh don't know how the fella do it! I did very cacat ahaha. At the end I just let it kemek in my bag and throw away.
Since the event is said to run till 2am, so might as well just drive to 1U! FUH! I very de geng! XD
Full size - C'mon it's Halloween! If you're shocked then good, mission accomplished. XD
Very hard to find the shoes leh... I somemore suspect that pair I wore isn't mine wtf. Took me very long to wear it!
But then again Alice is a game character so no one knows who the F is Alice ahaha. I die die going as Alice because if people can recognize Alice then good la but if cannot then at least I still can walk around in a look-like-very-normal outfit ma

Random pictures: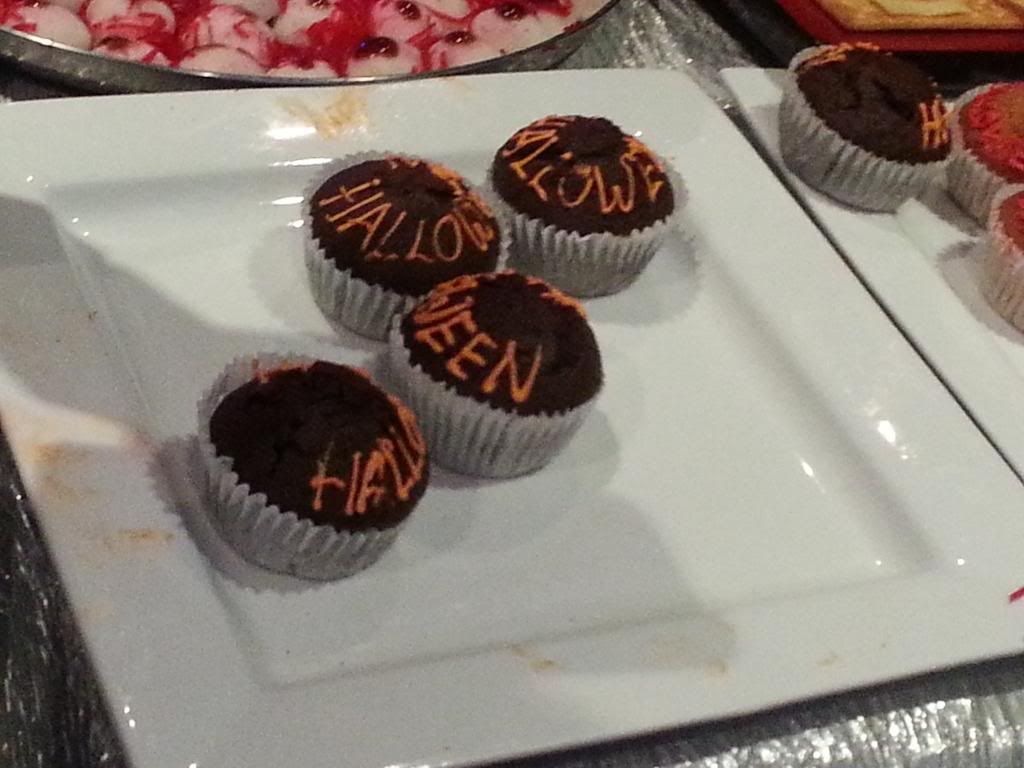 Halloween brownies... Finished very fast leh!
(Fish)Eye balls
... and so on. XD
Hahaha I'm not a responsible blogger.
Saw a station where we can get fake tattoo! So I dragged sanjie to get one :p
While hovering nearby... I met someone idiotic. *annoyed*



Cilaka: XXX, come here! XXX, come here!

*Walks to the fella*

Me: What did you say?

Cilaka: I say "XXX, come here!" Oh wait, you're not XXX! *laugh*


Where got people so cilaka wan you tell me!

Old story la this. I used to hate being a shadow of a friend. This fella still play such joke! How old ady you?! -_-
Sanjie turned into demon coz she's also pissed!
... Or not.
So! Back to the fake tattoo.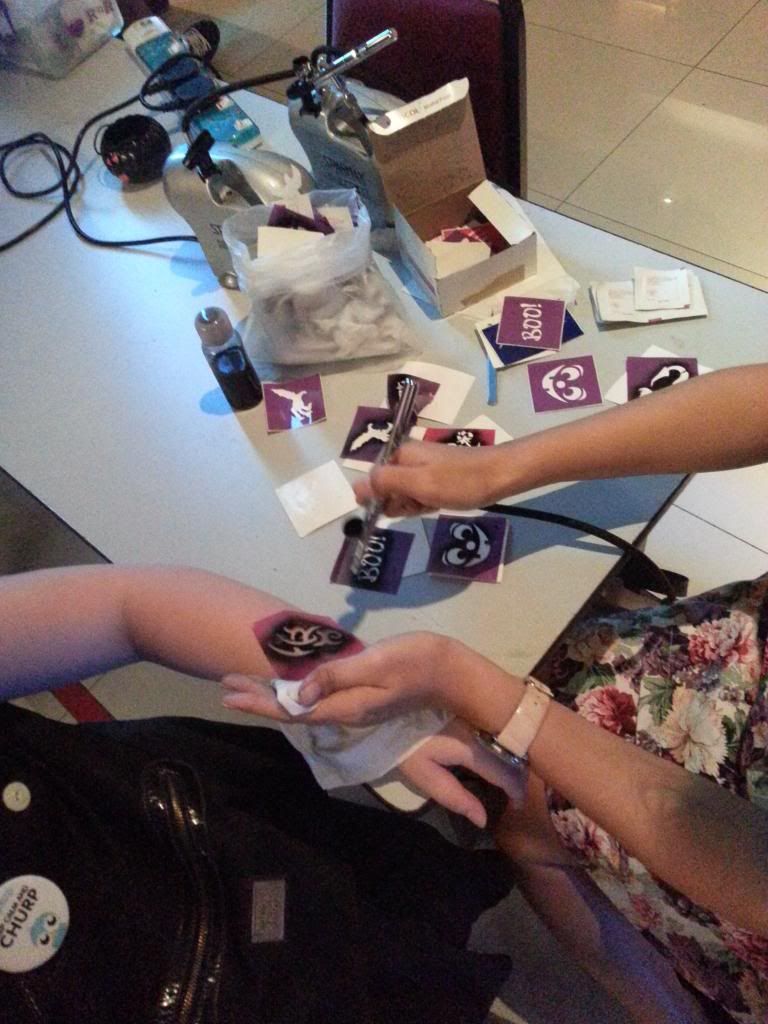 Left: Mine
Right: Sanjie's
Final results!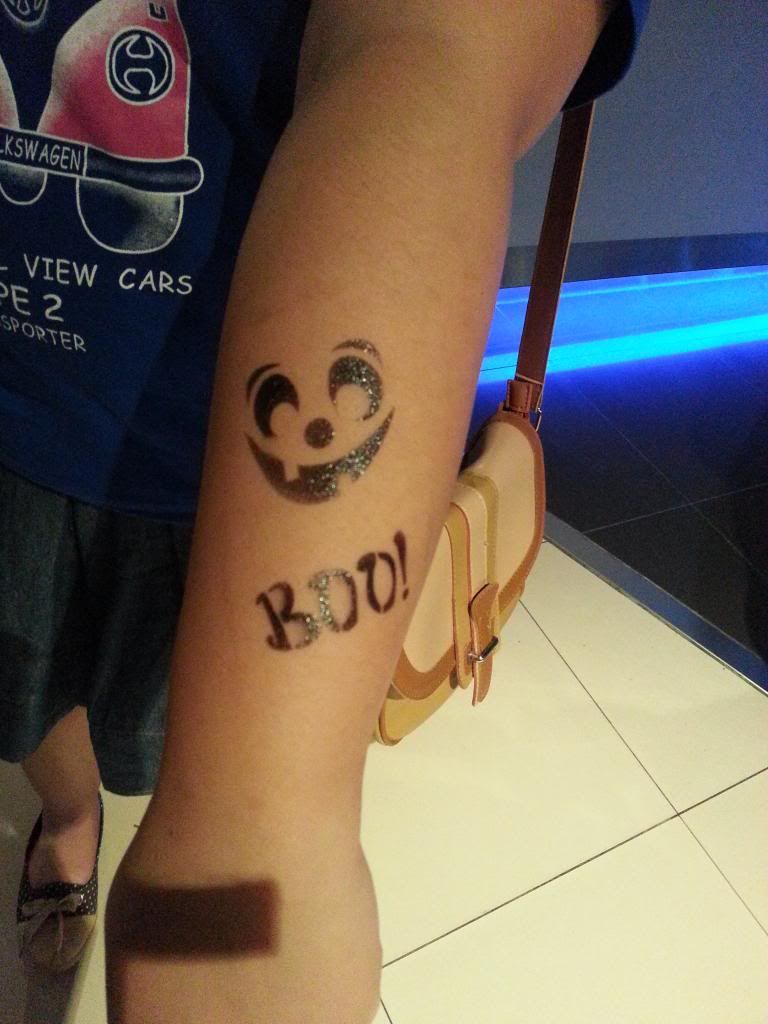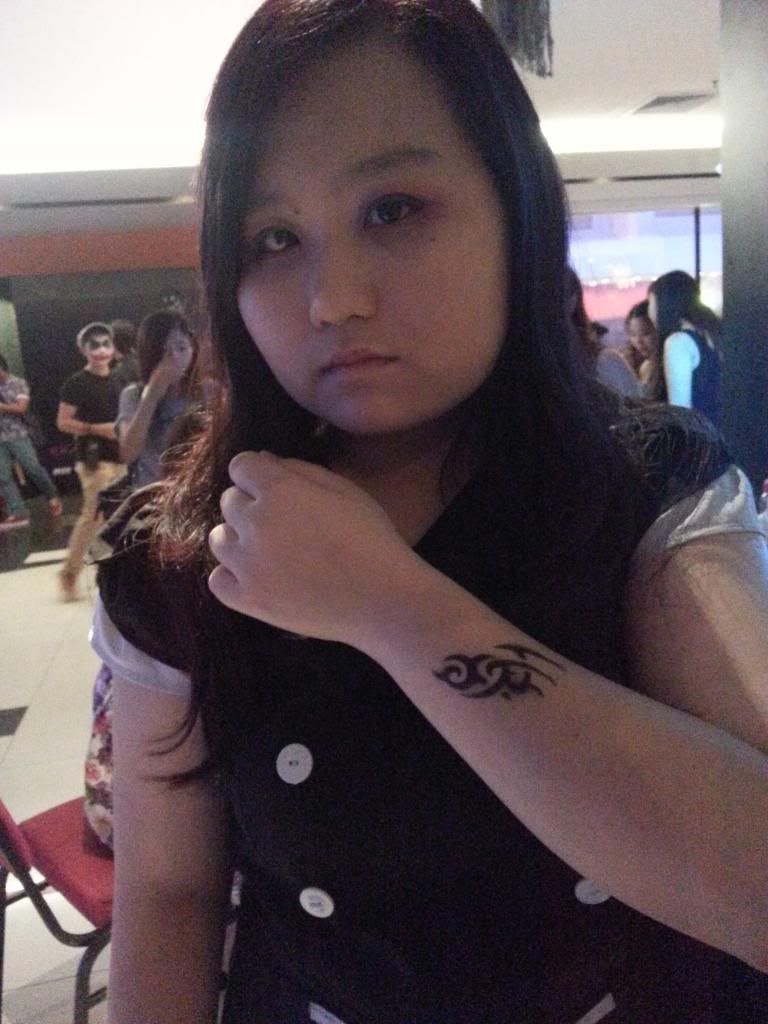 Sanjie's: Peek-a-BOO!
Mine: unknown rune XD
3 movies in a row! Rigor Mortis (HK), Second Sight (Thai), Insidious Chapter 2.
I watched Insidious Chapter 2 with mami aahhh! Sanjie said wanna watch so I accompany her lor. After all... WE DROVE!!! Muahaha. No need to ask anyone fetch!

Happy sia.
Goodie bag!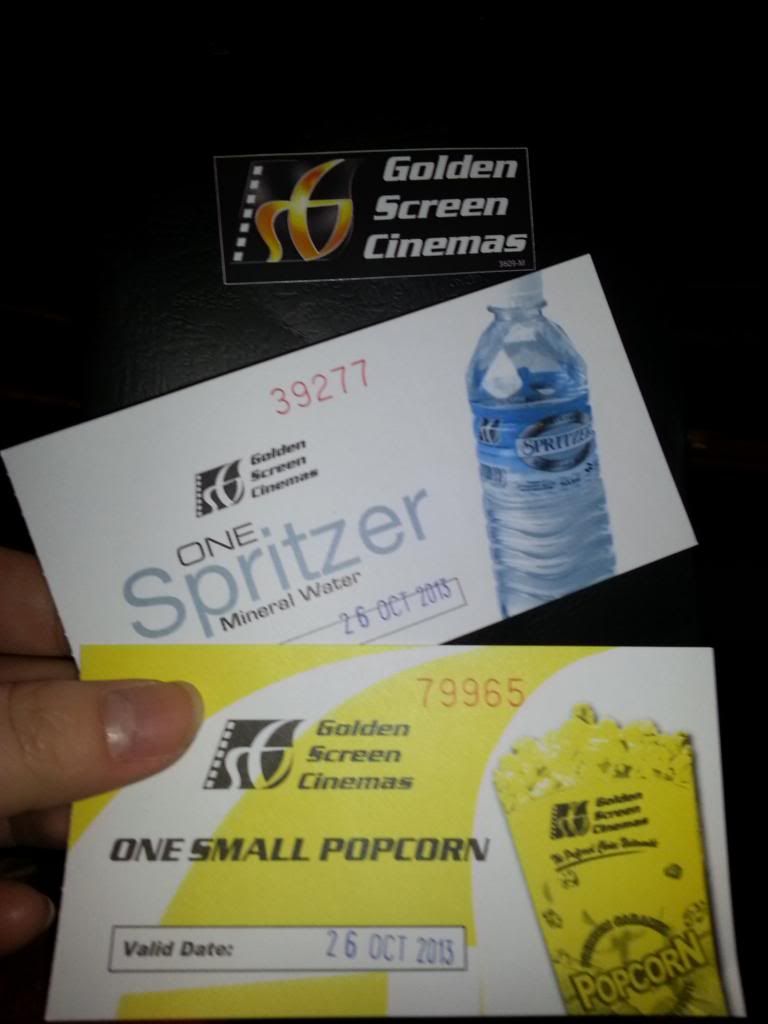 Free popcorn and drink!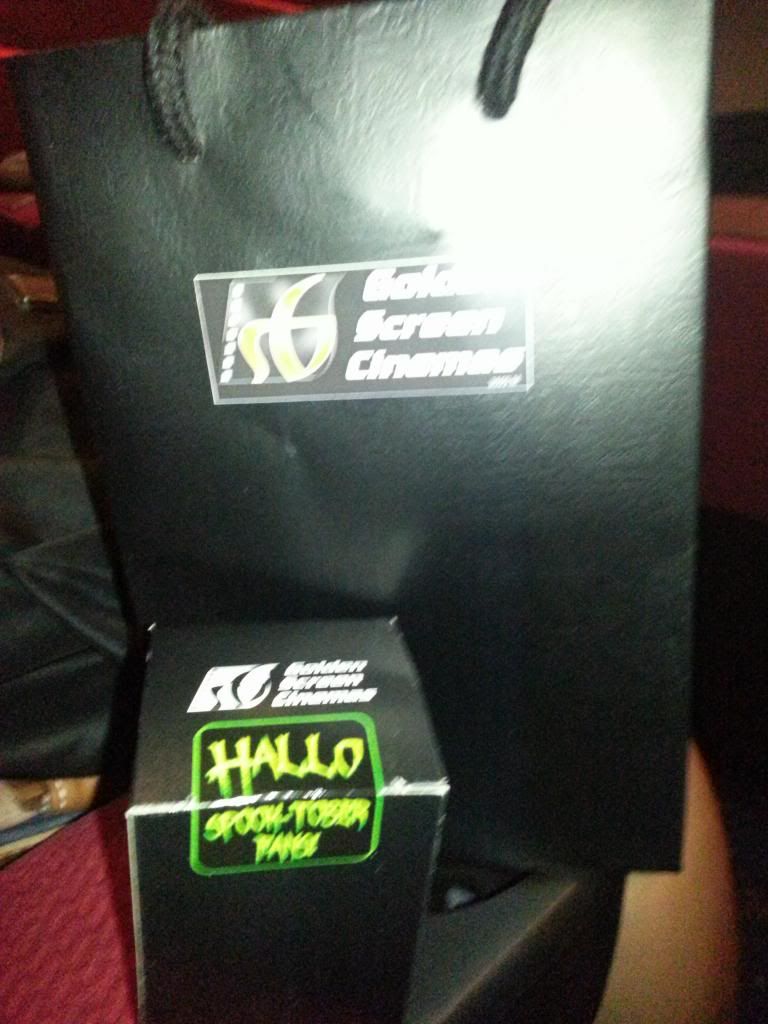 Voodoo dolls! Damn cute <3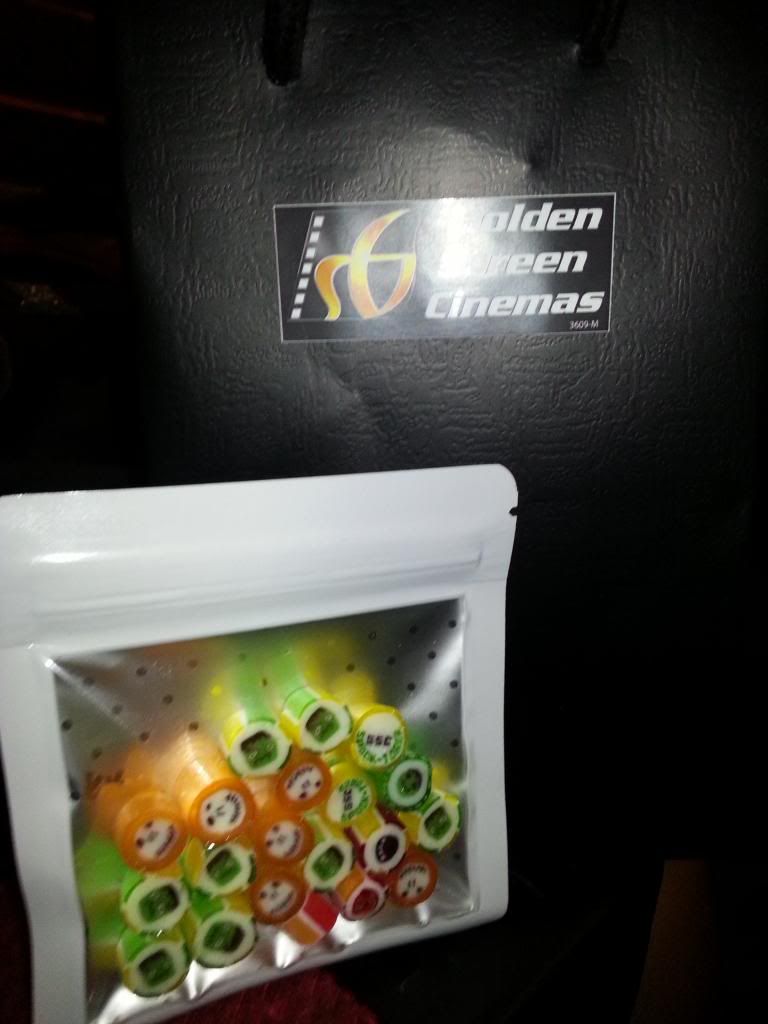 Sticky candy!
Rigor Mortis very zadou leh! It's like a combination of sadako and Chinese zombie. WTF.
Second Sight lagi zadou. Haiyah I also lazy wanna comment.
* * * * * * * * * * * * * * *
I tell you! 天有不测之风云! 人算不如天算! Hiccups here and there wtf. Gotta need another sleepless night!
Now most importantly sleep first! G'night!
* * * * * * * * * * * * * * *
UPDATE 30/10/2013:
Do you know that GSC give out 50 surprise box each for the first 50 customers who purchased 2 horror movie tickets from any of the movies - Rigor Mortis, Second Sight and Carrie? Promo period starts from 26th October - 10th November!
Don't forget to check which is the participating cinemas to avoid disappointment ;)