Warning: Very long post ahead. Only proceed if you have the time to waste! :p
We actually started planning this like, a month ago.
First first plan on 4th Nov geh coz it's gonna be a long holiday
(2nd-3rd are weekends, 5th is the Muharram - Islamic New Year)
but then only we realize Digi Promotion ends on 31st Oct so we rushed to apply leave on that day!
Muahaha it's the Halloween day somemore!
Altogether we have ahba, ahma, ahma de bf Leon, ahdi, Hui San, me and Veron with her friend. And then - too bad! Hui San fallen sick few days ago =( We went without her.
That day we took train and bus to Sunway leh! How come no direct train to Sunway!!! They can't be too rich to have train right, coz there're buses! Buses are squeezer than trains somemore wtf. =(
When we reached, we haven't have breakfast yet so we went to Kim Gary to eat first.
低头族
Ahma very geng! She found another group of 3 that can share the promotion with us! =D
Decor at the entrance
Bored look. The staffs don't allow ahma and Leon bring in outside food so they had to settle the food somewhere.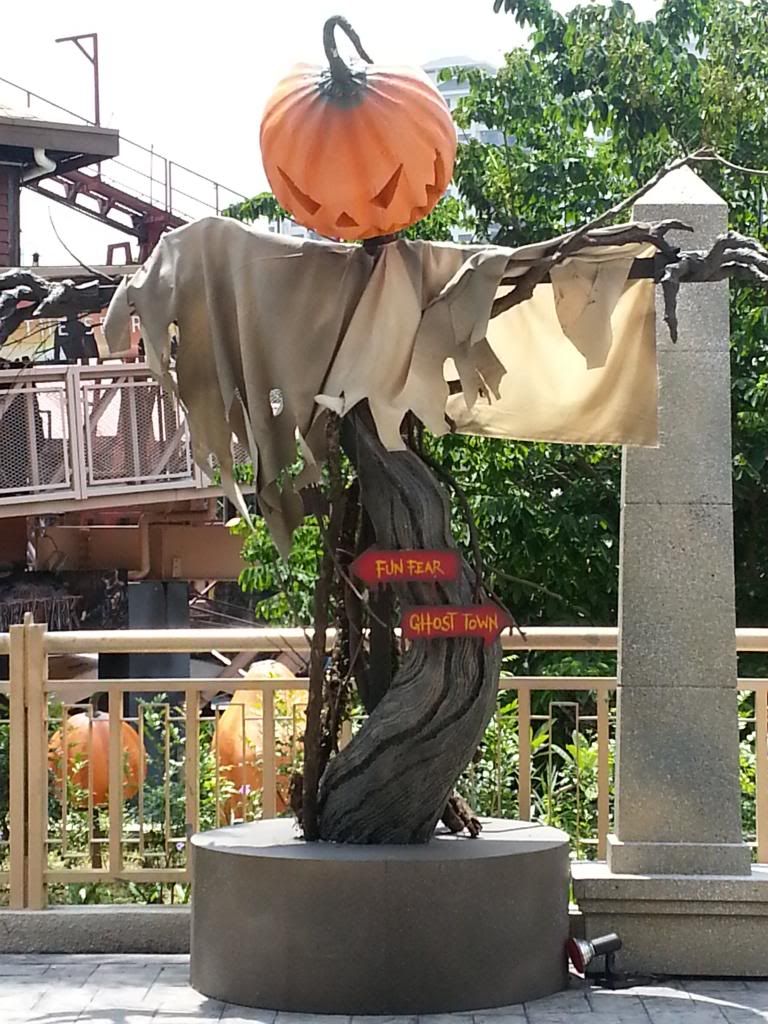 I suppose this is more interesting (spooky) at night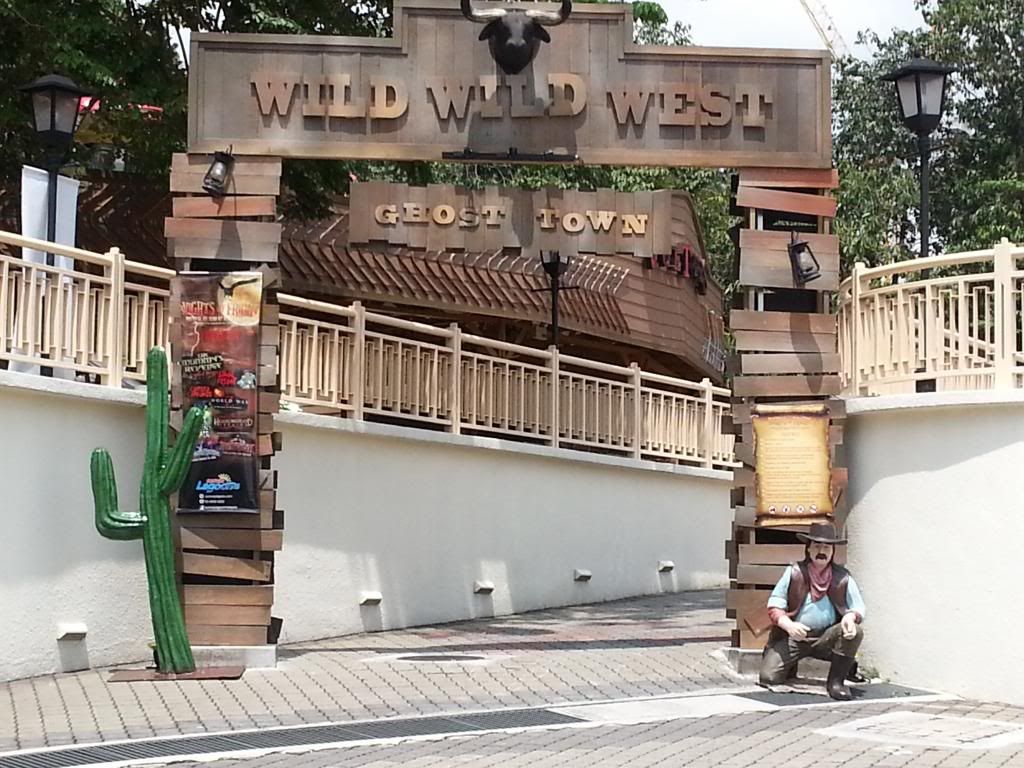 Haiyah we missed this.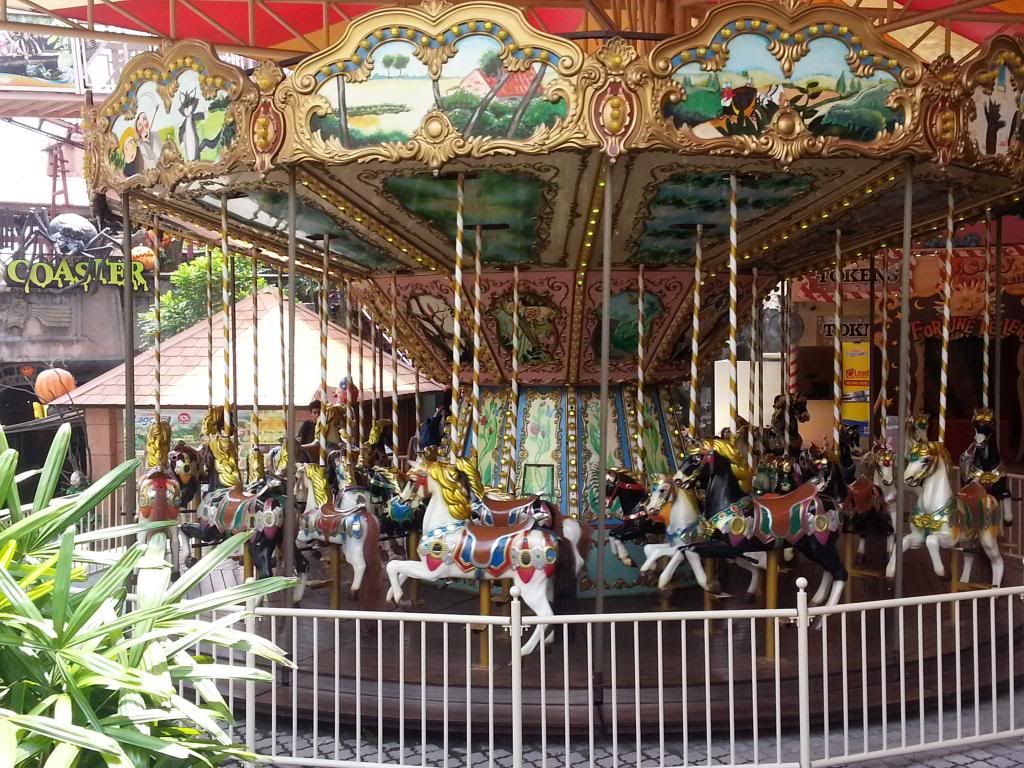 This looks like abandoned merry-go-round in amusement park lol
Map!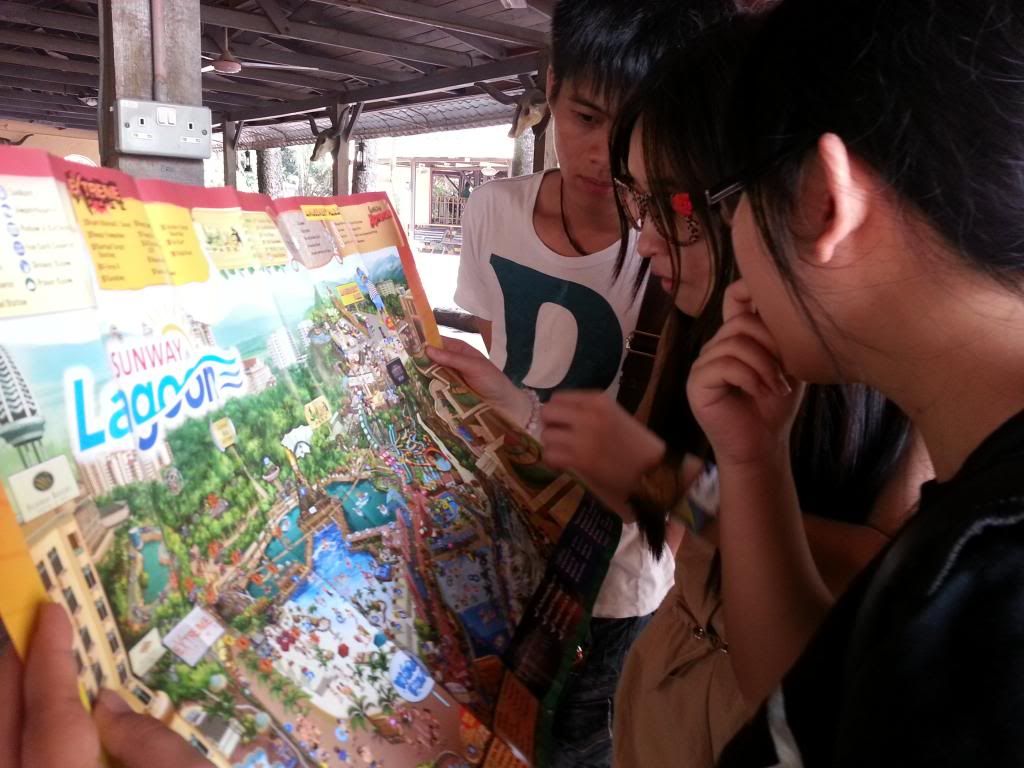 Ahma: We gotta find the changing room first...
Ahma: I think we're here.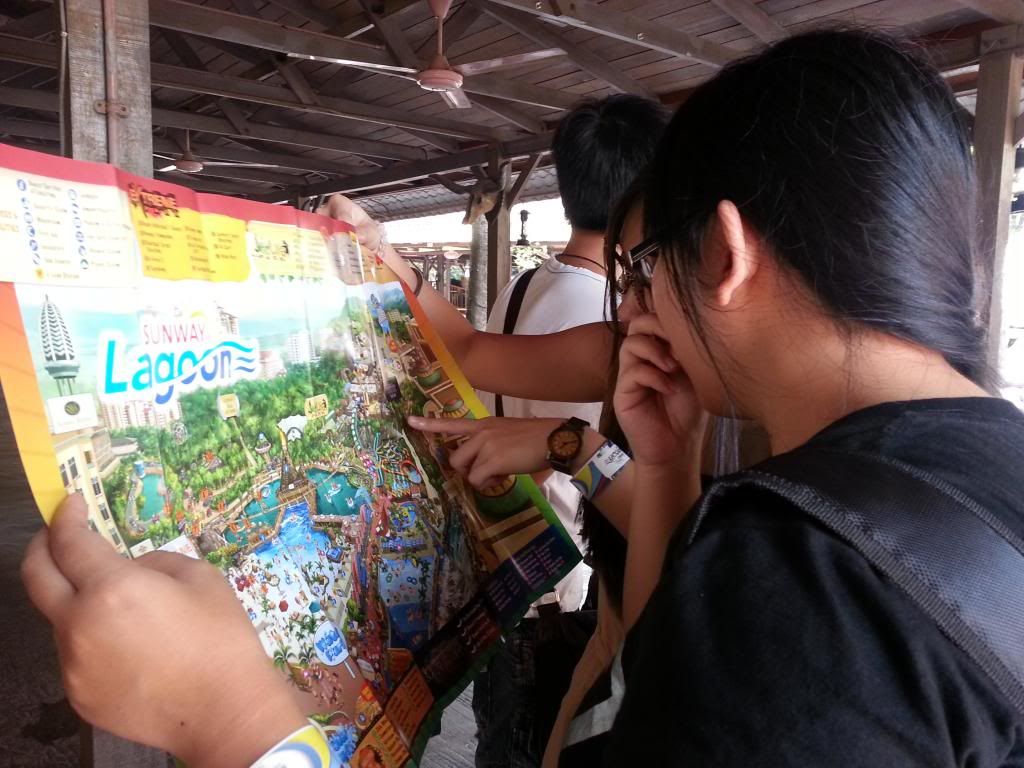 Leon: Hey look, a hot girl in bikini!
Ahma & ahdi: WHAAAT!!! *turn around*
Leon: NOTHING! Keep checking the map!
Hahahahaha I made that up.
Map again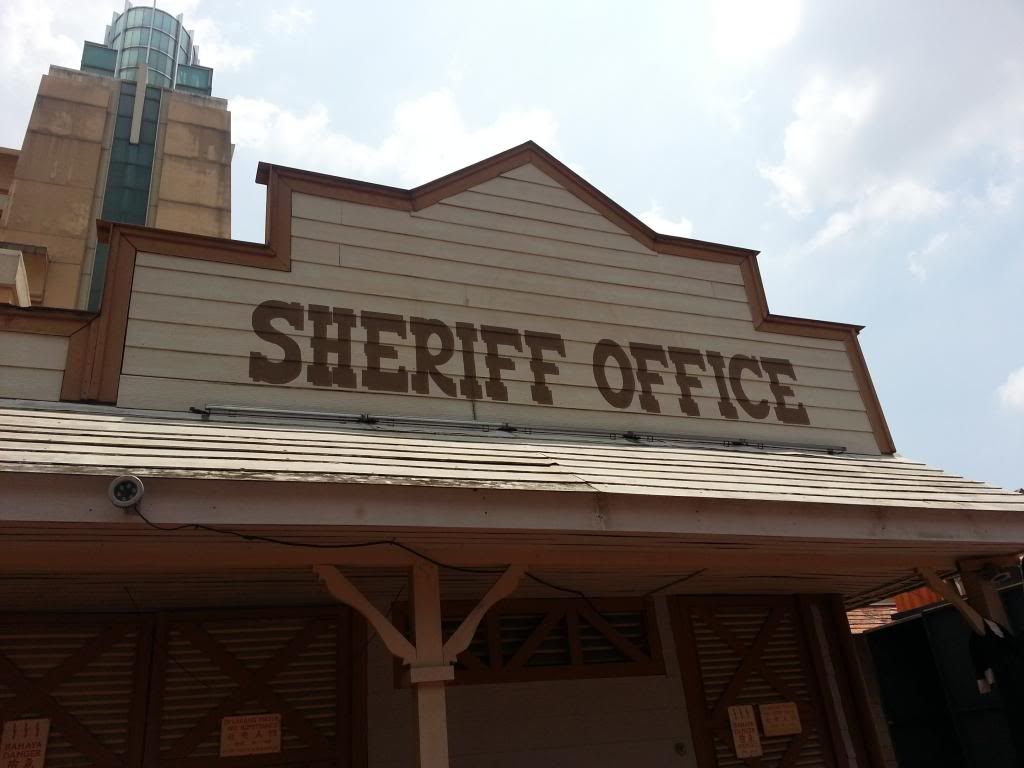 Looks like cowboy town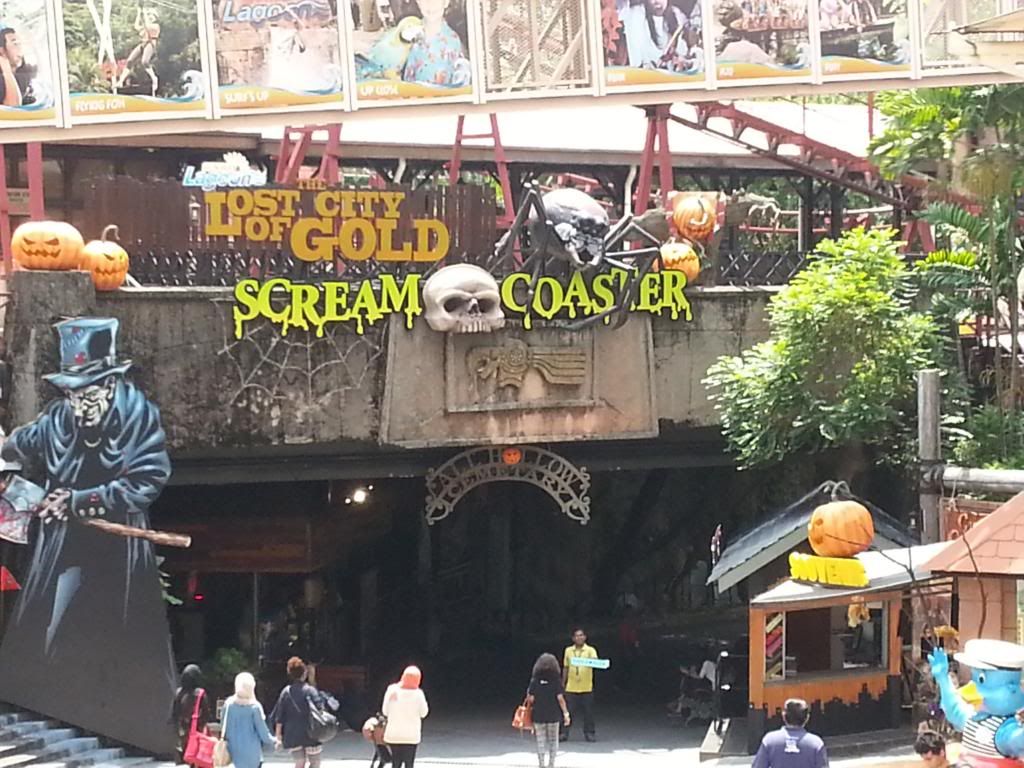 Lost City of Gold was under maintenance leh so it's closed. =(
Zombies - Must have for Halloween!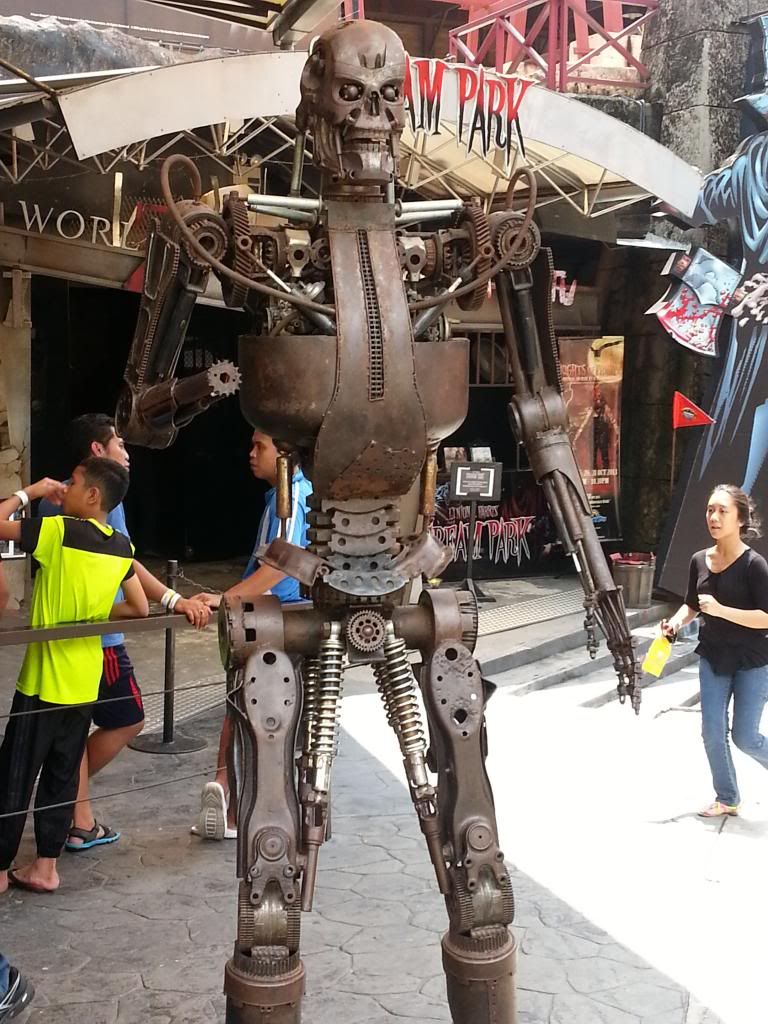 Don't know what display this is. We missed World War Z / Scream Park too! *punch self*
Eh got tiger wor!
Ahba: The two tiger can stay together so peacefully oh?
Me: Because one of them is female ma! XD
Ever heard the saying, a tiger cannot live with another tiger in the same mountain unless both of them are of opposite sex? (一山不能藏二虎, 除非一公一母)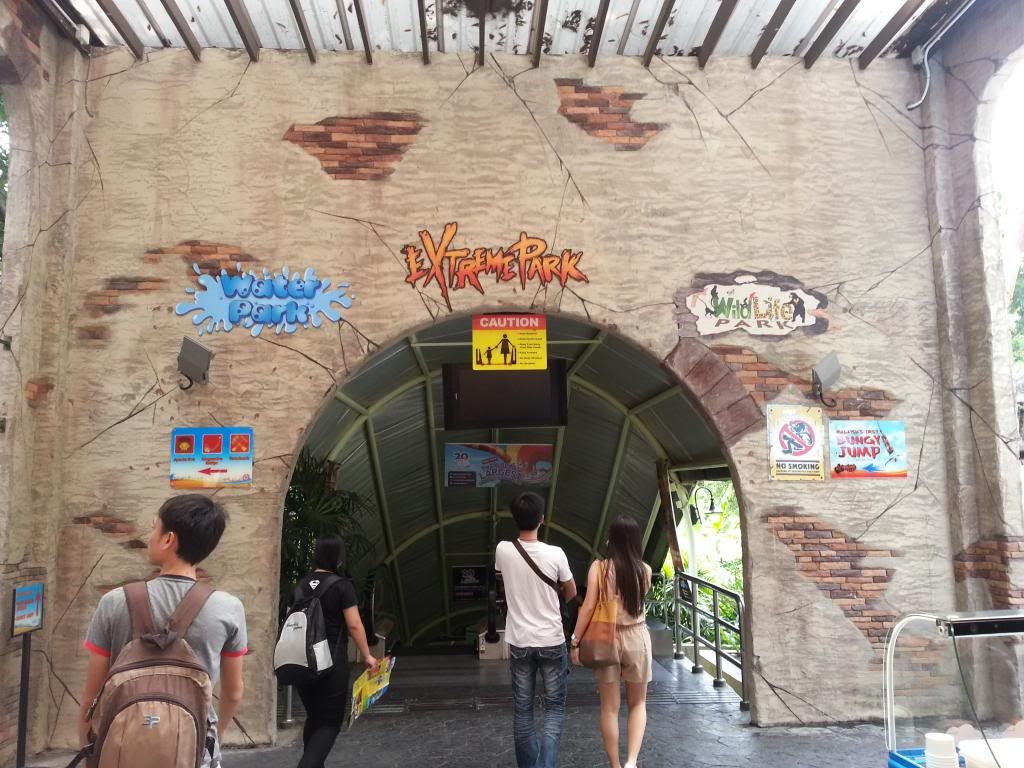 Ahdi: I think this is the way to water park...
Leon & Ahma: Ok come lets go!
Ahba: Eh I think toilet is over there... *Look at left*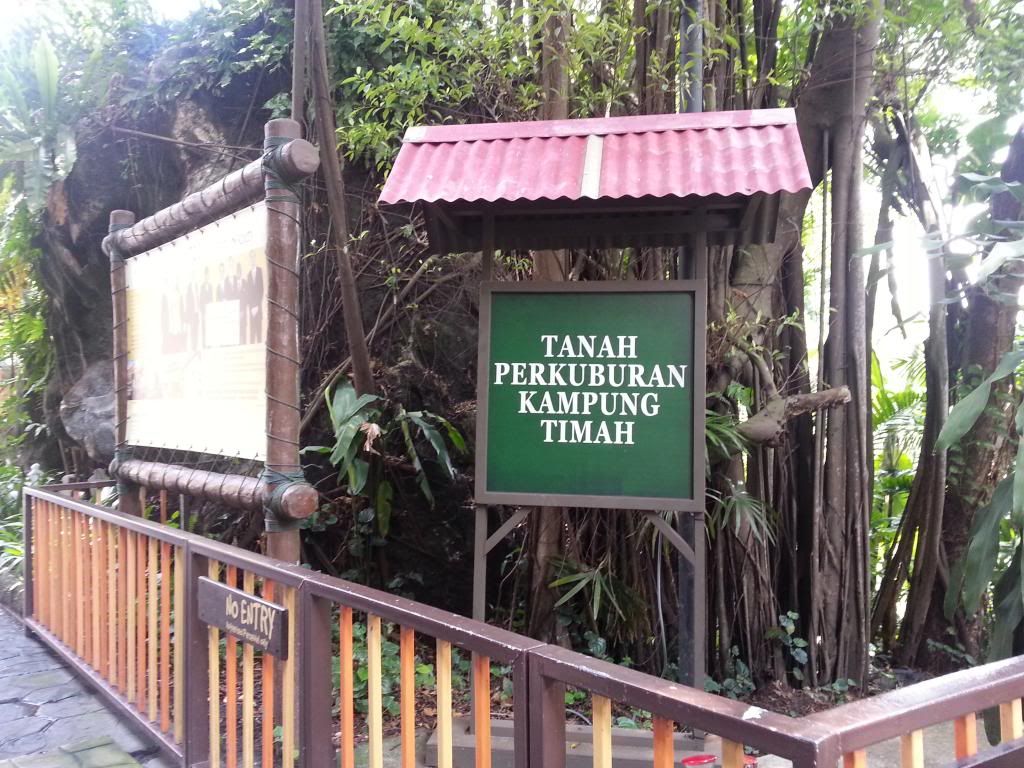 After turning left... o_O
Anyhow we got changed and START PLAYING WATER WOOHOO!
Leon very pro! He brought a waterproof pouch for his camera!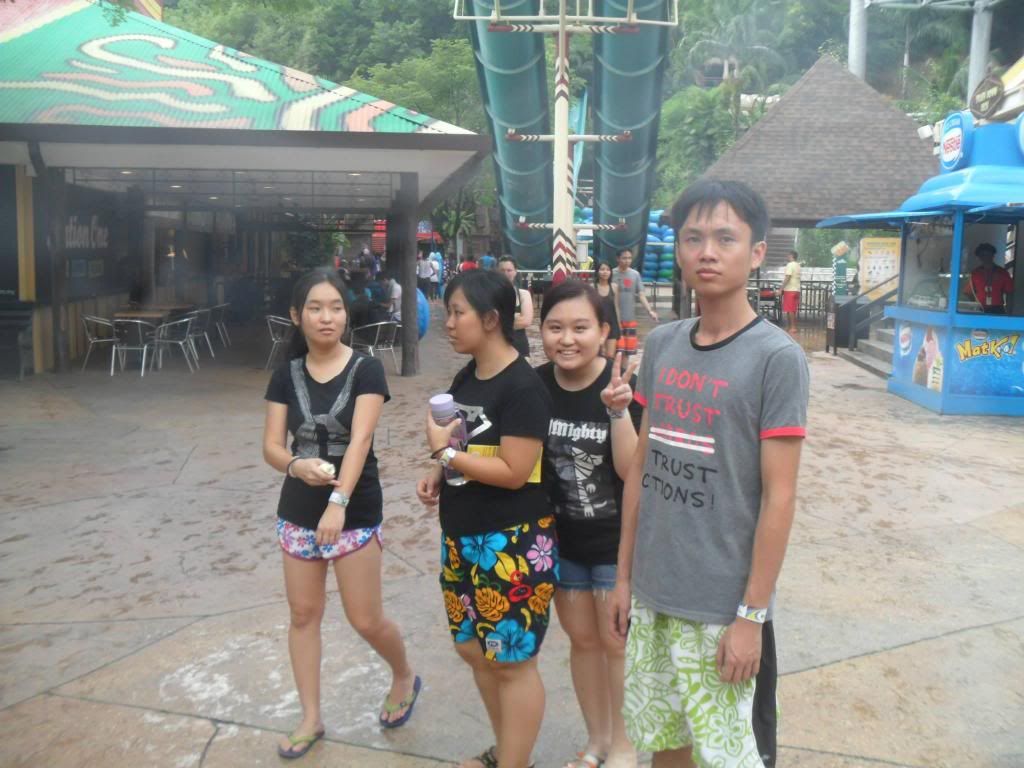 Before getting wet (Ahba de T-shirt "I Trust Actions!" still visible)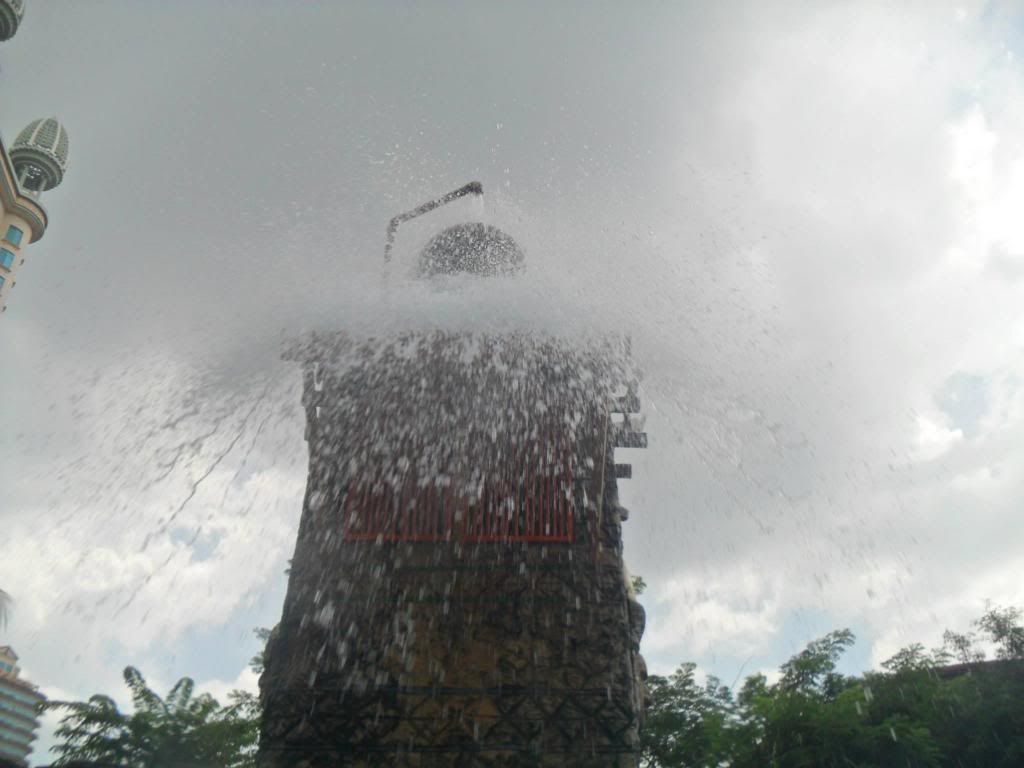 WEE~!
Say cheese!
Played something else...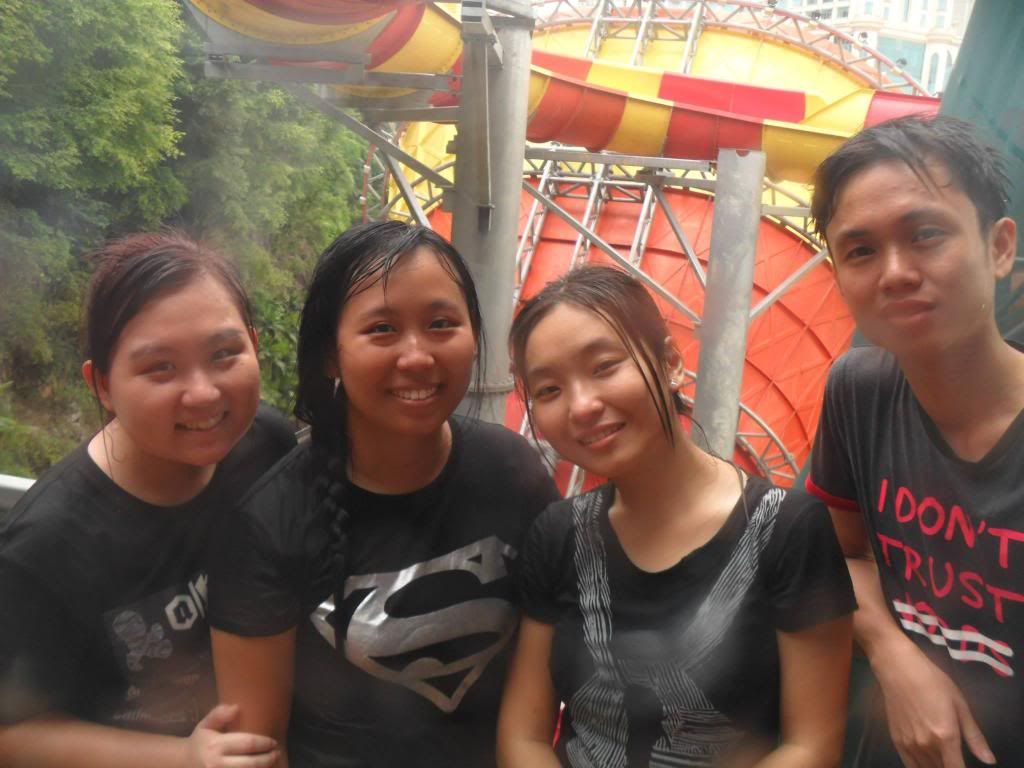 Climbing to the top...
FOR THIS!!! (source: lipstiq.com)
Namely Vuvuzela. Damn exciting can! It's my most favourite activity in the whole water park!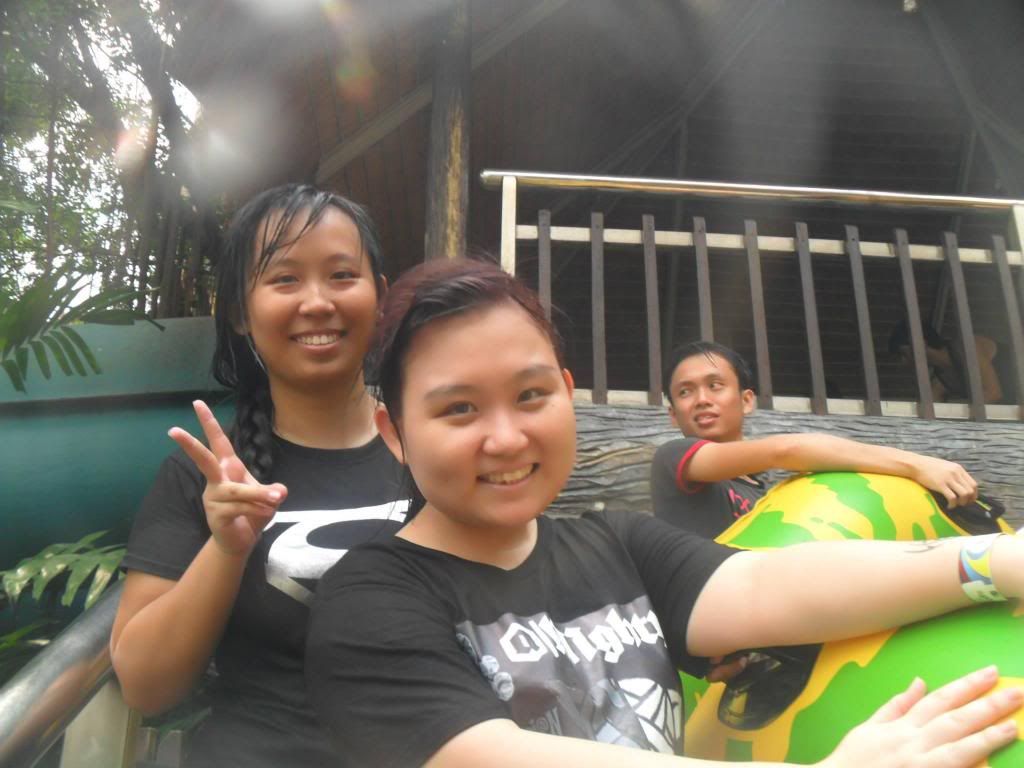 Another water activity with ahdi before I kena ban because of wearing jeans shorts


Poor ahba have to share with another guy
Haiyer I don't know why they wanna ban jeans lar. Ahdi said it's because they scared the buttons/zipper will poke through their boats. But mine don't have buttons! Zippers been covered nicely somemore! Hmph.
(die die also dowan admit fault)
Ahdi said we can go soak ourselves in the swimming pool coz she played the activities before. Love ahdi max~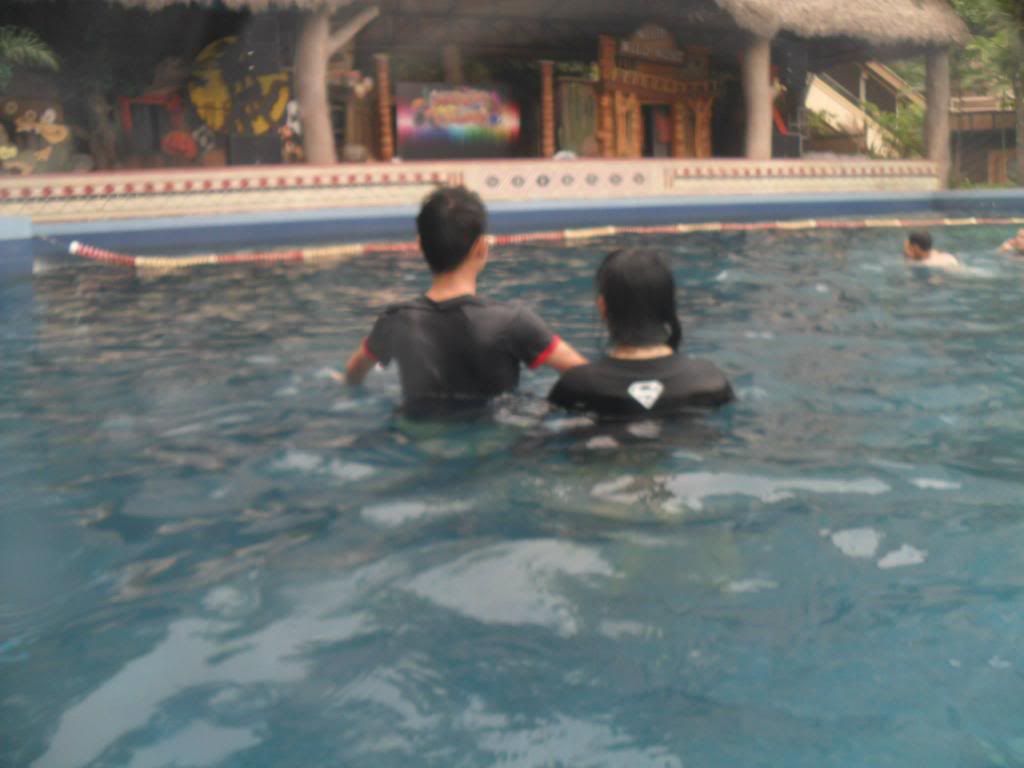 Don't know ahba and ahdi ji-ji zam dit mat yeh.
Ahma joined us after the activities
Ahdi: You see you see ahma can dive very long!
Me: You try also la!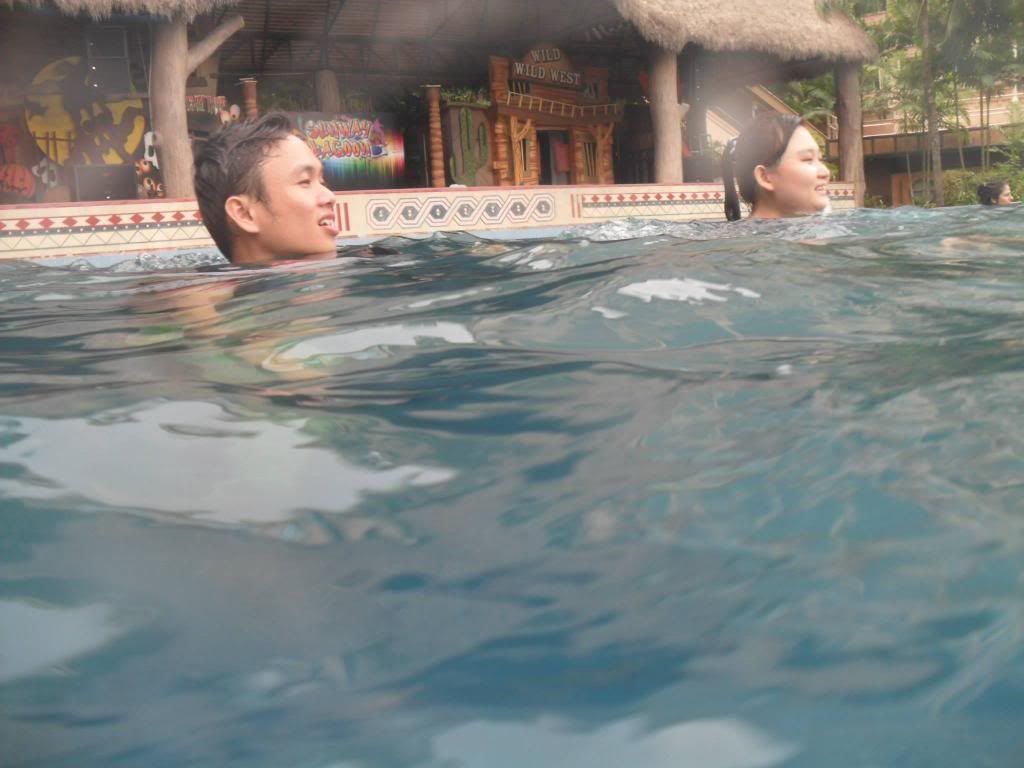 Random
Changed pool
Before we can play any longer, it suddenly rain wtf. DOESN'T MATTER! Play my favourite for one last time.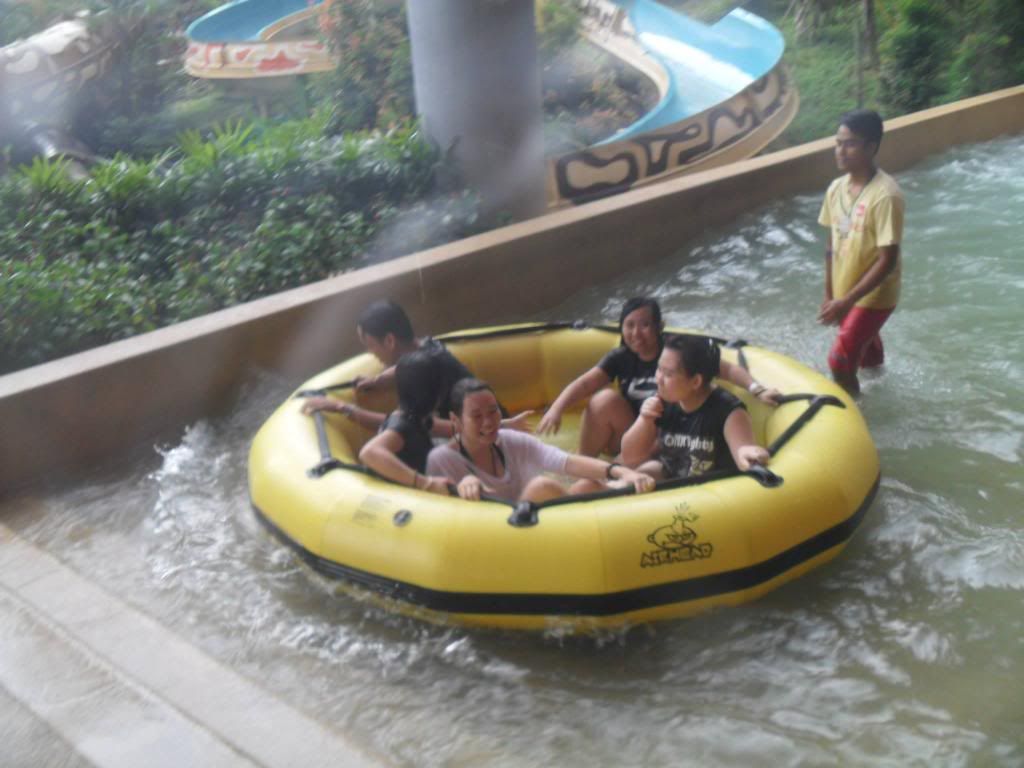 Shiok!
It's raining and since we're already wet, might as well just visit the WildLife Park la.
Picture in the rain!
(Ahba has no trust to anyone or anything XD)
Wildlife Park before rain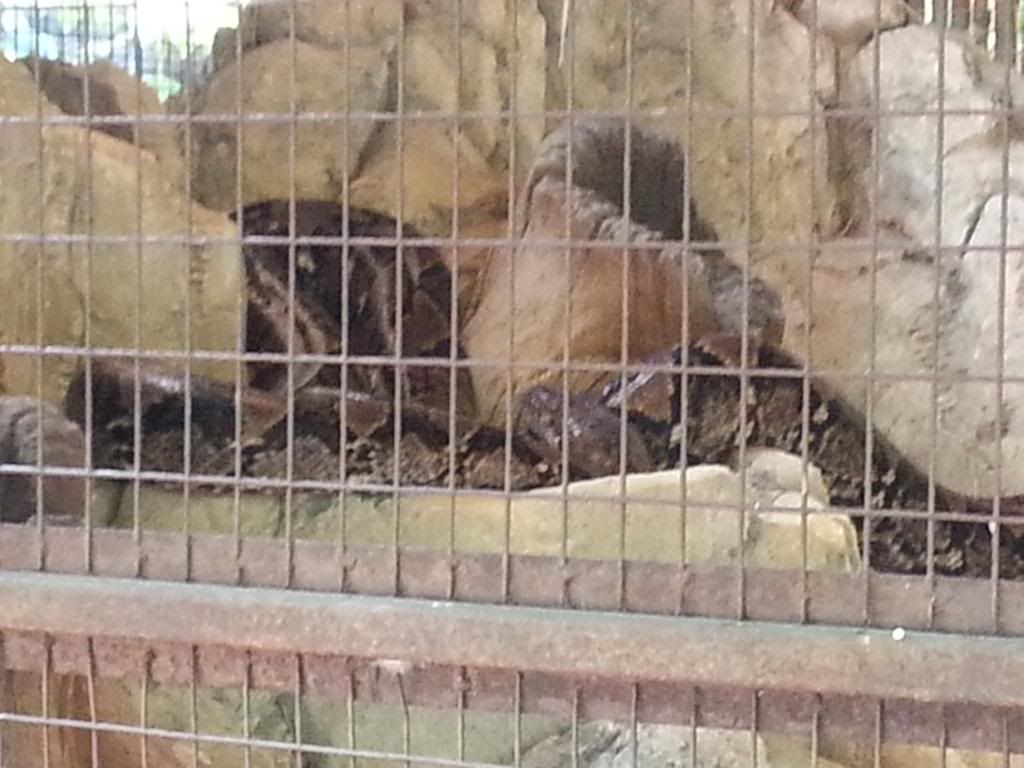 Some snakes
Taken before we go into the water park lar so that's all I have lol.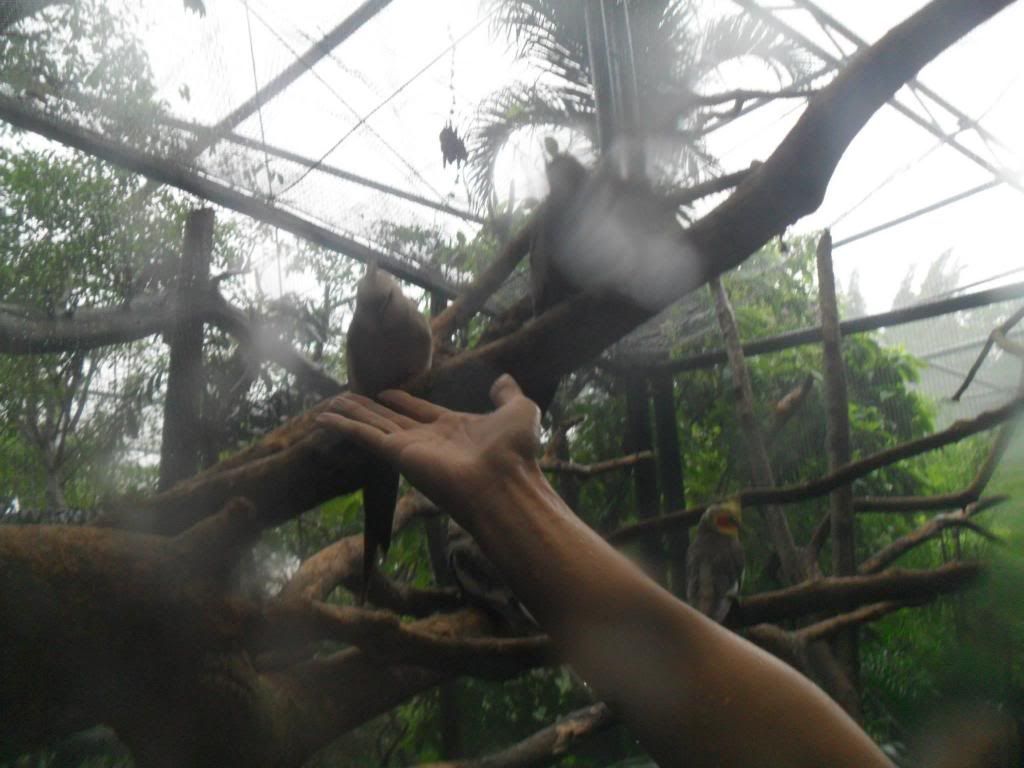 Oh wait one more! From Leon's camera
I seriously gotta consider buying the waterproof pouch... I'm going to some beaches in Thailand (forgot which part) with my family in December so it's gonna be useful!
Went to clean up ourselves already since we've done playing water park.
Ahba didn't know we wanna take with the logo so he gets the middle space
Another one using tripod
Then we hiao hiao dei go play water games somemore lol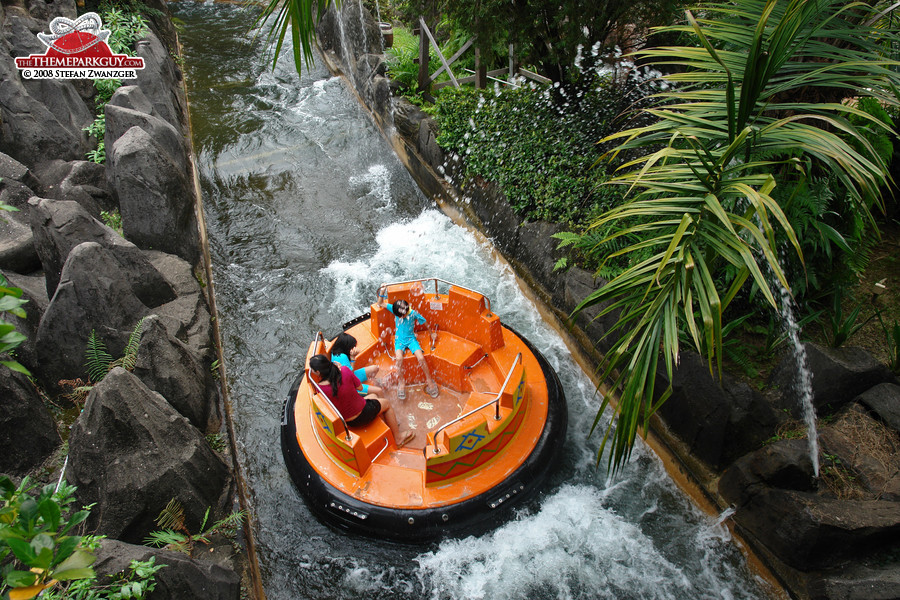 River Rapid Rides! (Source: here)
Damn hard la wanna google this pic. I suppose everyone wanted to be on the boat and they were holding on so no one take pictures.
Move on move on!
The lame-O Ferris Wheel!
Ahba, me, ahdi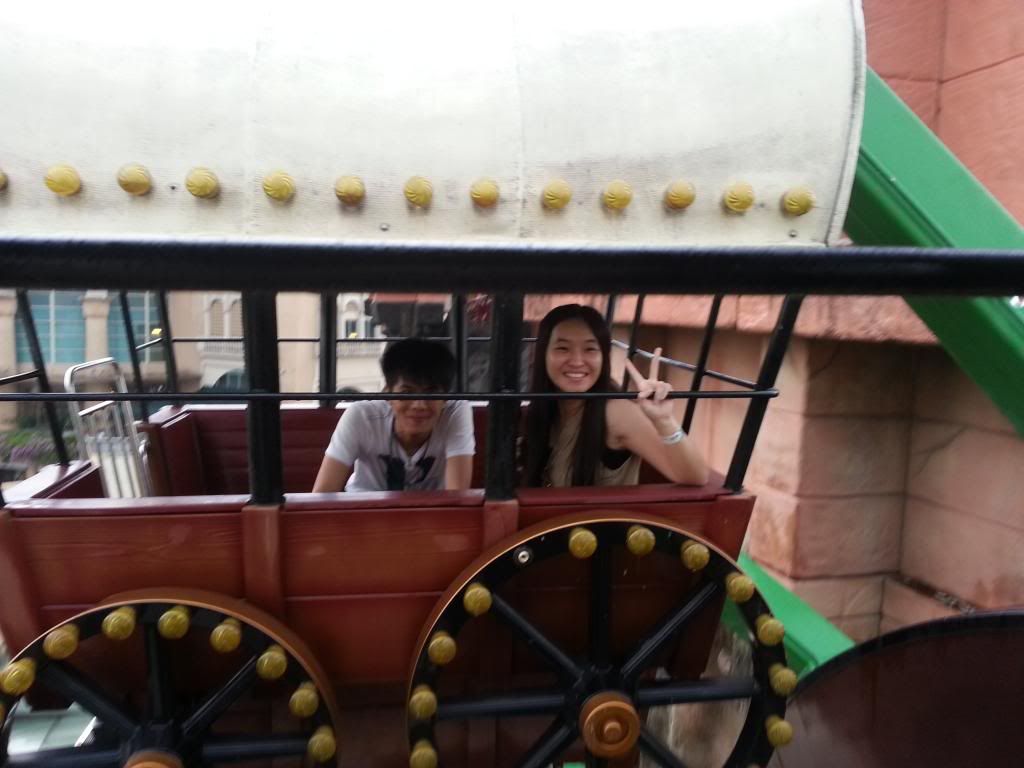 Leon & ahma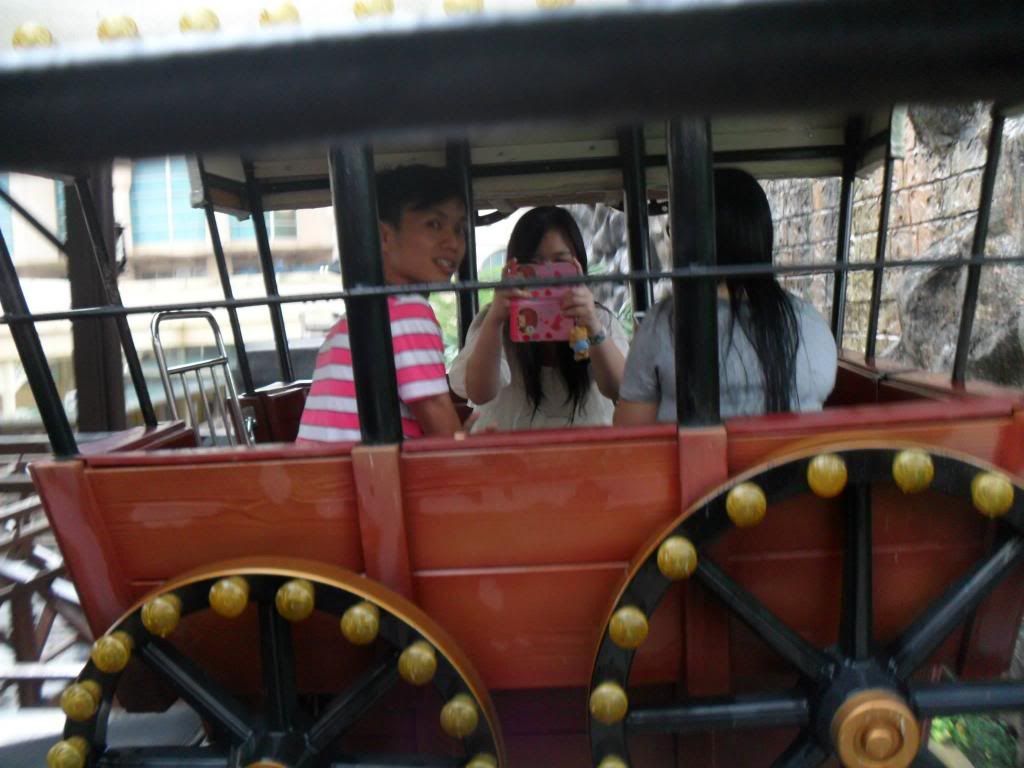 Leon took picture of me...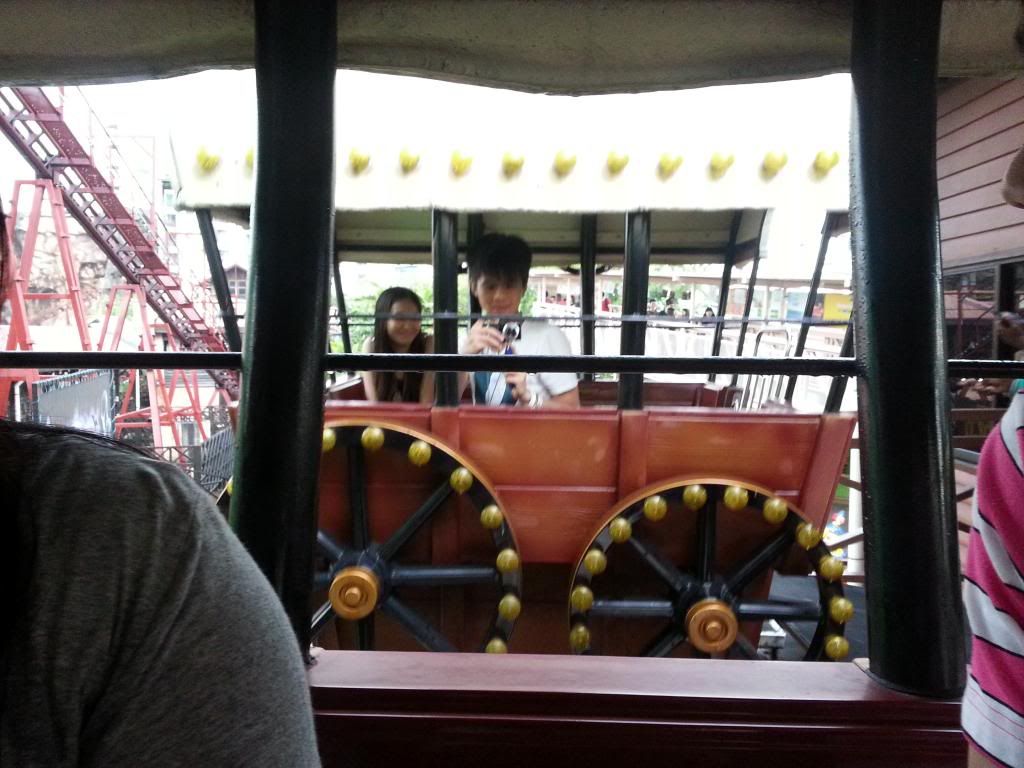 ... taking picture of them
It's Halloween! We passed by that coffins and decided to pose with it~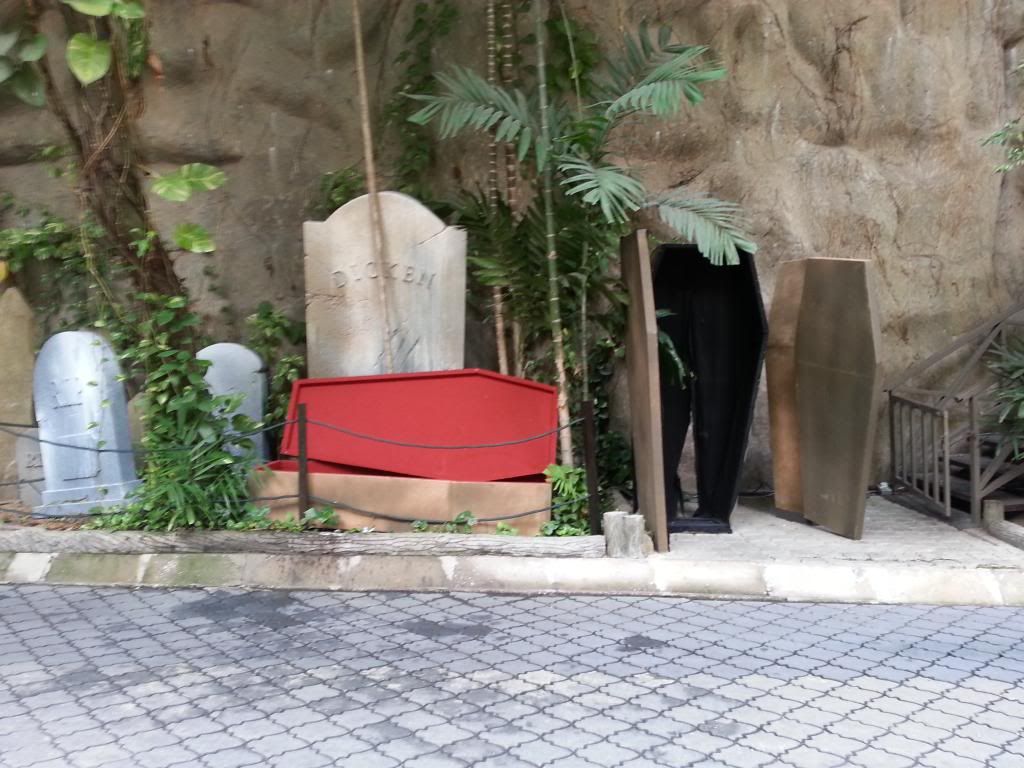 Oh look coffins!
Someone has awaken the grumpy ahma!
They said I can be anything so I became the undead gorilla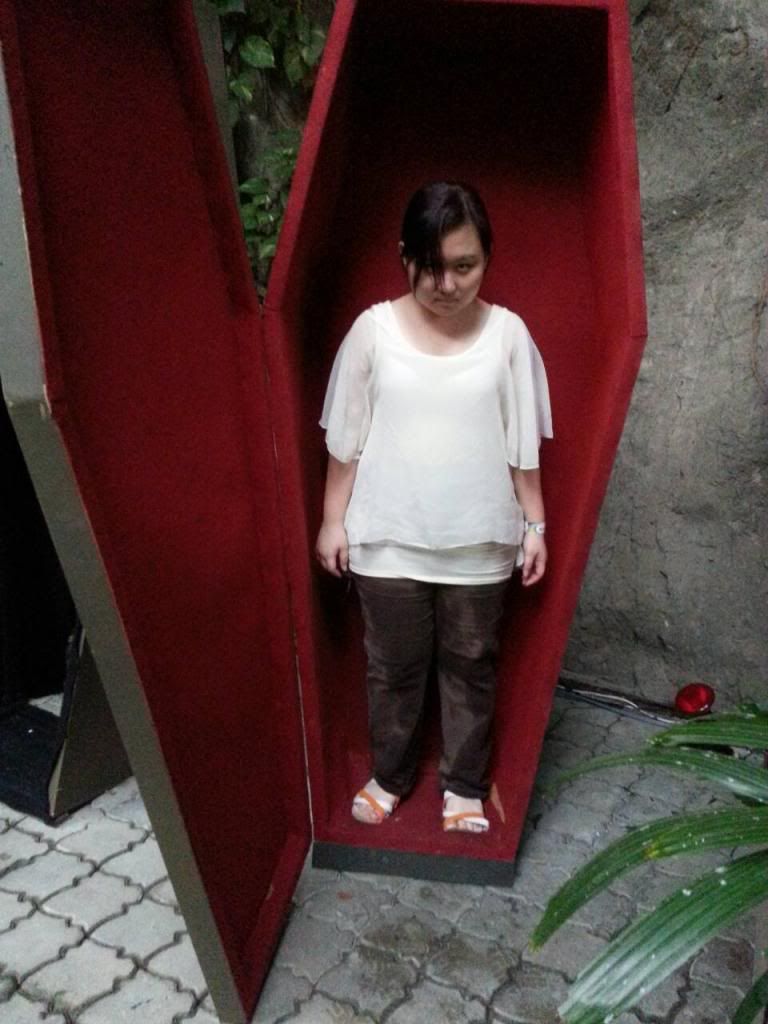 怨气很重
I have the potential of becoming a ghost/zombie!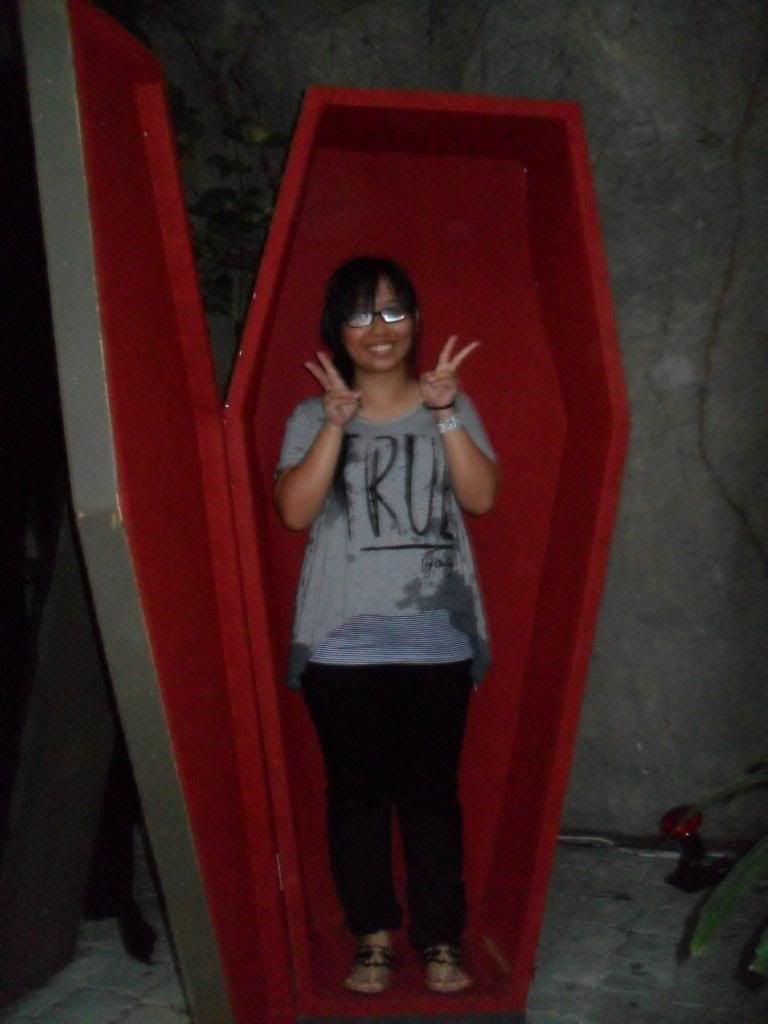 This fella suggested scary pose and she himself act cute
Other random games: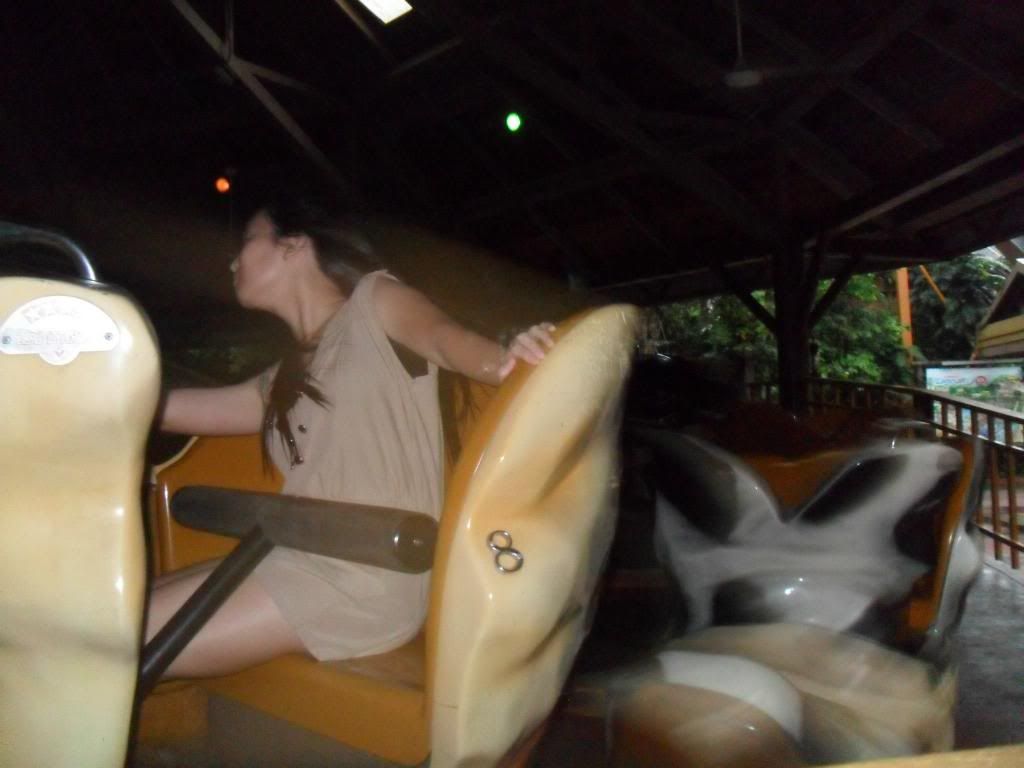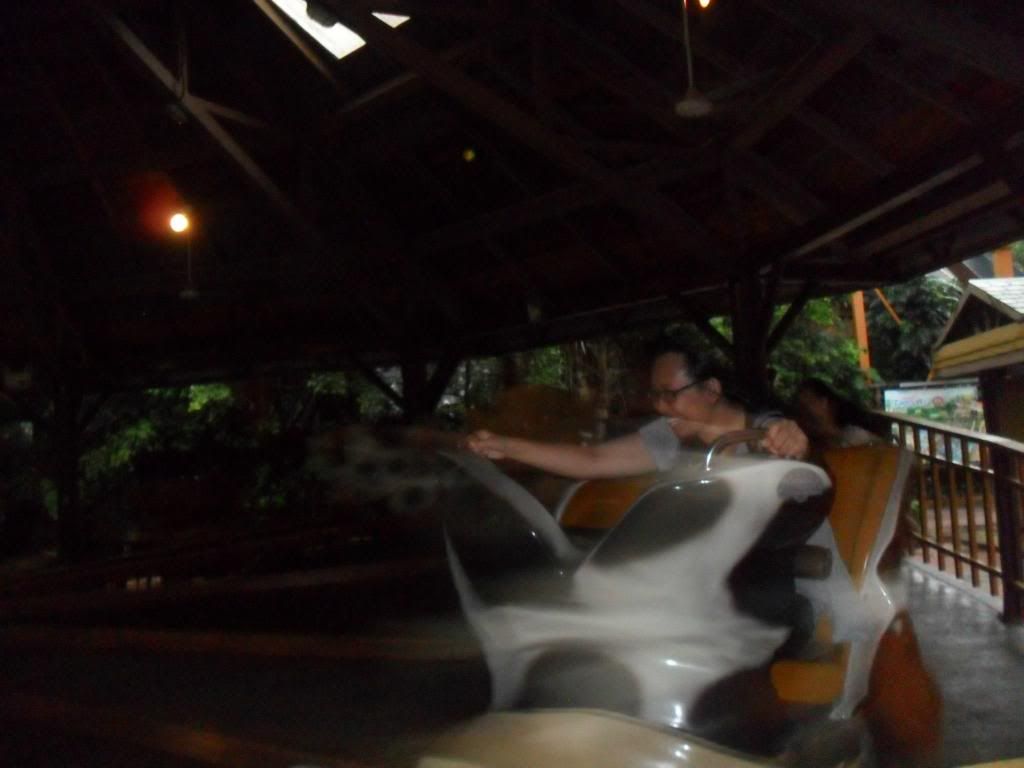 Boots that moves very fast... in a circular motion. Very silly, but it was fun!
Tomahawk
This looks pretty ok so I tried on this.
I CAN NEVER IMAGINE THE FEELING OF BEING HOLD UPSIDE DOWN!!!!! #sick
Thanks ahdi who read the prayers before the game started so no one gets hurt.
An uncle sat behind us wore slippers and one of his slippers fall out, once almost hit on ahdi but she slapped it away (damn hilarious!!!) and then it landed on my neck when we're turned 90ᵒ facing downwards wtf.
Ahma wanted to try the pirate ship but everyone killed that idea.
One last stroll before we go back...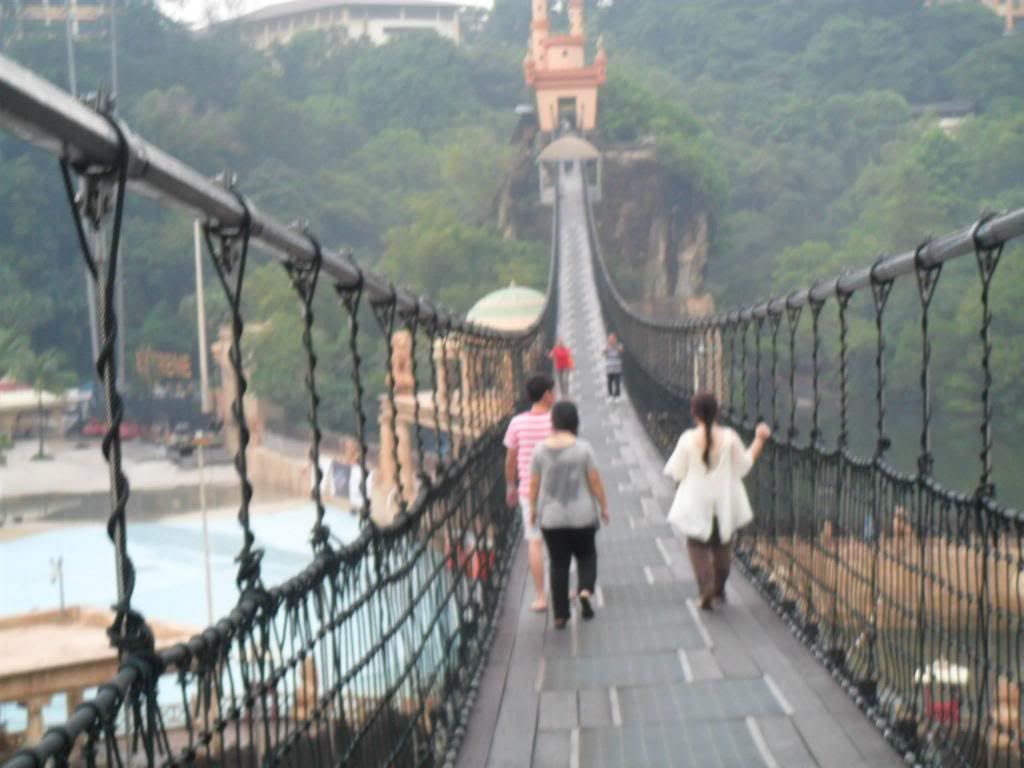 Ahdi 心肝脾肺肾 la mai yat gao ady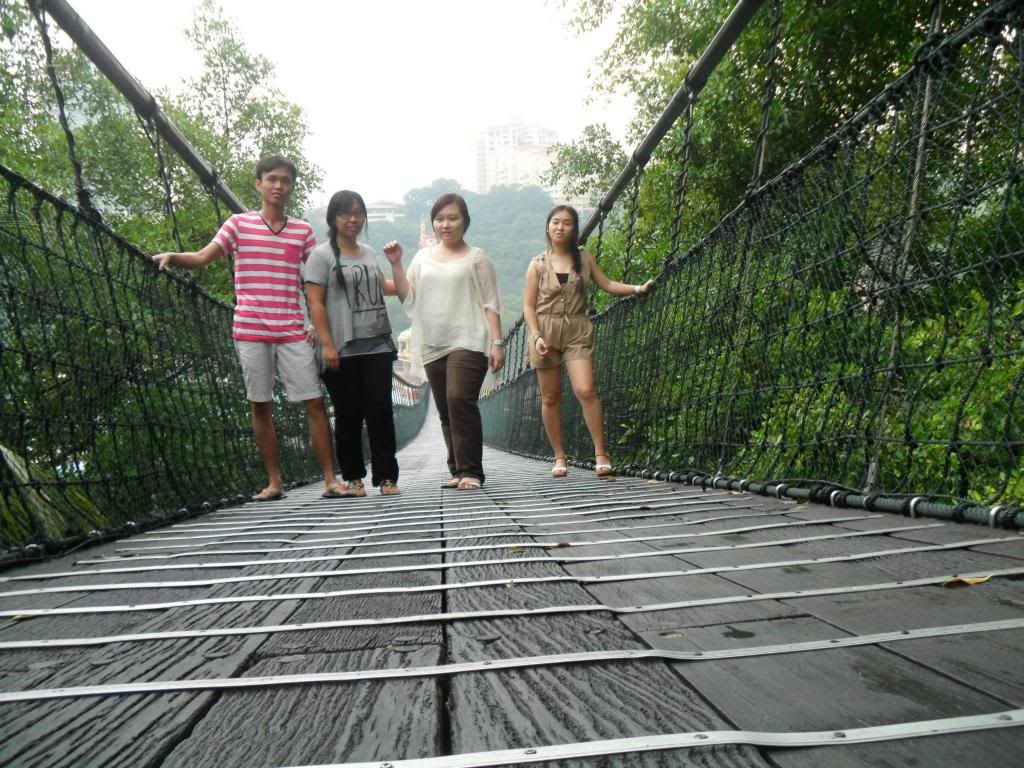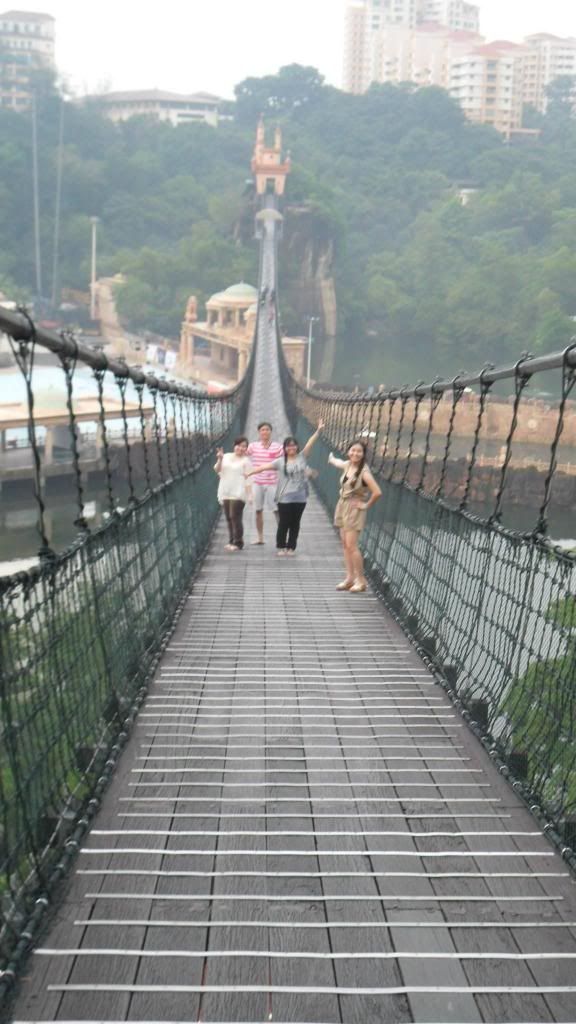 Ah! Another logo!
Ok trip ended with the Donald Duck's cousin in black-and-white stripey swimsuit.
... For me.
* * * * * * * * * * * * * * * * * * * *
Coz sanjie said her free tickets expires today! I wanted to ask her buy tickets for 9.45pm The Escape Plan but then she bought the one on 7.15pm ady =(
Movie started without me. But I managed to reach Pavilion at 8.30pm! Ngam ngam hou can watch another half of the movie.
I got a feel that good actors are rare nowadays.
So anyhow, this day is GREAT! =D
ps: Did you realize Leon looks like 梁汉文???