OK la the birthday girl open mouth and request ady! No matter how un-mainstream I am, gotta join the mainstream force and write something also lorh!
Besides I haven't write any birthday post since... forever.
Actually I wished her ady!
Hop over her FB and wish her NAO before the clock hits 12am! Or you can wish her belated birthday also no problem la but it'll makes you a jerk jek LOLOL no la I'm just kidding
So creative I also scared myself! XD #buaypaiseh
I don't know what to say lah coz #soulmate already write everything in her
blog
!
.
.
.
Hurm OK here. I'm telling you lah. Sometimes life works in a mysterious way you didn't know. I used to piss her off so many times, yet she's still here tolerating with me. Sometimes she did nonsense and made me so so pissed I secretly swear I'm not gonna contact her anymore after I graduate, yet you see I'm still creating a birthday image and writing a birthday post for her.
(ps: I suspect she knows dark magic! Anyone knows how to reverse the curse and save me please?!)
But since this entry is for her, I'm gonna write what she had done for me. Grab some tissues in case you're gonna tear.
She's the one who stick with me when I first met her in university and stayed till the end.

She's the one who stayed with me when I was alone/no one jio me out. #foreveralone

She's the one who's include me in ALL her activities if she could. And group projects.

She's the one who's willing to cook for me and drive me around during that 3 years in university. I didn't cook/drive even once. #truestory #shame

She's the one who put on my makeup and did my hair on every occasions.

She's the one who helped me wear my first contact lens wtf.

She's the one who knew I wanted a birthday party like all other friends had deeeeeeeeeep inside my heart even though I kept saying I don't and secretly collaborated with erjie and threw me an awesome and bestest birthday I have in my life! (YEAH I REMEMBERED! Read it here)

She's the one who knew I love teddies and actually gave me something teddie related as my birthday present. (Read here!)
OK imma stop here coz the more I list the more I felt like I'm a jerk wtf.
So you tear yet? No? Nevermind then. *shrug*
I hope what #soulmate hopes. *out of creativity*
Ok here's last one: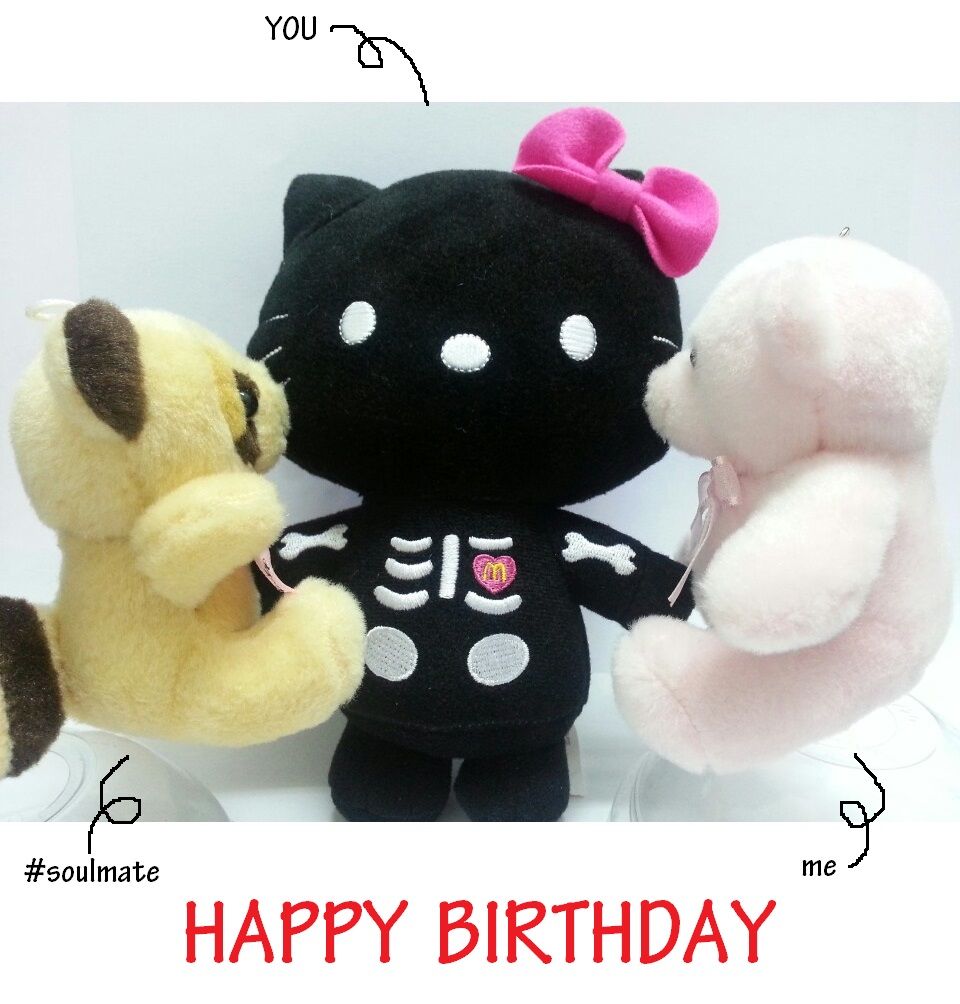 Muacks!
Very privileged ok! First one to receive image wish instead of only texts muahaha. ORIGINAL SOMEMORE, NOT COPIED/GOOGLED WAN!
May all your dreams come true. (Unless your dream is me dying wtf lololol)
Update: Forgot to include the birthday girl's picture tim. Here's a giantass one:
Dug out the one with most likes coz she's this pretty in real life already. No need filter/edit.
ps: I hope to see the fella that can melt her heart.