It's been quite some time since I win movie tickets from Nuffnang/ChurpChurp!
Y'know,
I die die also wanna watch this coz it's the first horror premiere screening I have had in my life! Coz, y'know, I missed premiere screening for Paranormal Activity 4 and The Sinister.
This is just so sad. Luckily the God hasn't been cruel to me. Sanjie is having her semester break! And thanks erjie for coming :') I LOVE MY SISTAS!
This is another movie I win from both Nuffnang and ChurpChurp! :D
Q: If you're a mama , what sort of lullaby would you sing to your kids every night as you tuck them into their beds?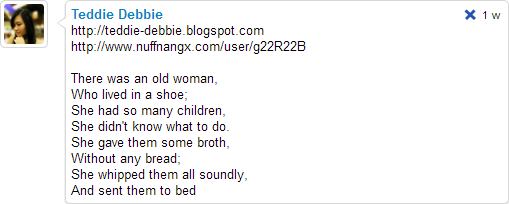 I don't even know what am I writing wtf. But at least better than #soulmate, she used Justin Bieber's song wtf *sneer*
Tell us a horrifying experience you went through when you were a child.
So not original wtf.
This morning, erjie said she's sharing Nuffnang's picture to win the giveaway - and so she did! So the whole family of mine get to watch this movie with me WOOHOO!!!
YOU MAD, BRO? #trollface.jpg
One down side coming with family is that, they MUST have dinner. And scumbag brother can't watch movie without popcorn. So we missed the starting a little.
This movie... Scary level: 3.5/5, storyline: 2.5/5 loh. [REC] is better, if you need a comparison. LOL.
Looking forward to tomorrow's movie coz I stand a chance to win merchandises!!!