This entry is actually dedicated to #soulmate. Well. I admit that I (we) have weight issue, so when people make comments about how unhealthy we are by looking at our body size
and
weight, we got pissed off. It's simple, what we think is that, size/weight does not equal to health. As in, big-sized/heavy people doesn't necessary have to be the unhealthy one, slim people have health problems too. Like si ahba thin like hell but he just recovered from gastric. See? #soulmate and I never have this kind of problem.
Anyway. The point is, she was kinda upset, sorta because of the reason I just mentioned. When I had panic attack before my exam, I shopped.
(To Rebecca Bloomwood: Shopping does make the world better!!!!!)
So I recommended her the online shopping therapy and introduced her the beauty box ahaha.
ps: #soulmate please control yourself ok! Don't overspend like me!
The concept of the beauty box is, it's a box filled with cosmetics ranging from deluxe samples, travel kits to full sized products, generally on a subscription basis. Kinda good concept I think, coz you get to try them out without having to worry that it doesn't suit you and the full sized product gone to a waste. When I was at MIVVA's
site
, I thought it might be a good idea, for me to subscribe the beauty box - this way, I will be able to receive the box every first week of the month (MIVVA sends the boxes on the first week of the month), give myself a surprise, and reduce the negativity in me!
(LOL) Partially also because it's hard to change my body shape for now la so might as well spend a bit more effort on my face to distract people from focusing on my body ahaha. And I received my first box last week zomg it does feel super good! Like receiving a present from the past me lololol #foreveralone
Here's one of the ranking of beauty box subscription in Malaysia (click
me
) I'm reviewing the MIVVA box because erjie subscribed it before and I subscribed it when I had panic attack last month ahaha #facepalm Actually I'm a little nervous coz it's mid month appraisal and I started to google different beauty box brands ahaha that's how I found the list of subscription.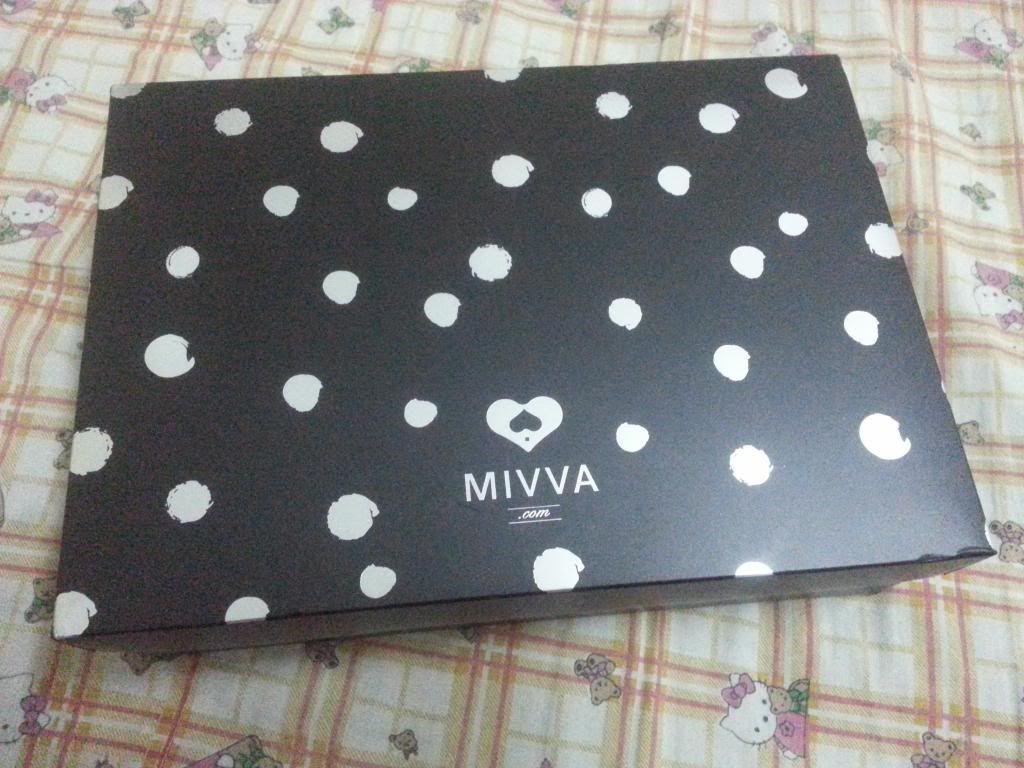 MIVVA Beauty Box July Edition
Erjie said I've got the new box instead of the old one and that I'm very lucky. I think that is because I sekaligus subscribed for 6 months ahaha that's why I got the new box. I can't make proper decision under stress ok. I said I had panic attack!
So this is what it looks like at the inside of the box:
BeautyMate Purifying and Hydrating Nano Toner, RM49.90 for 120ml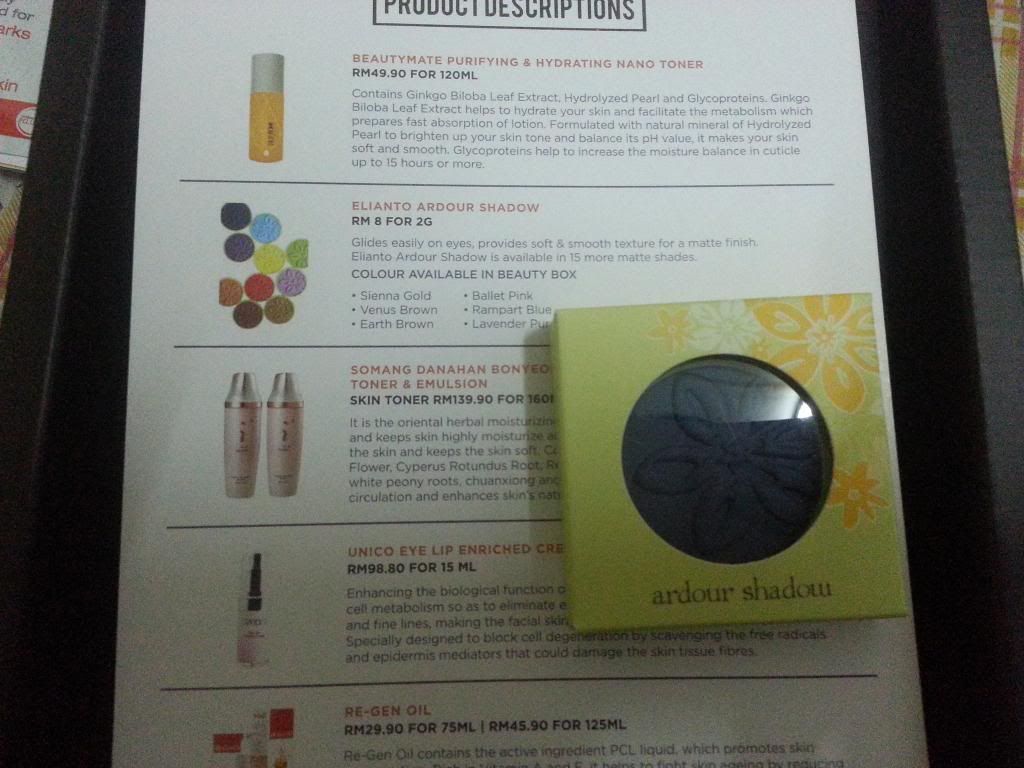 Elianto Ardour Shadow, RM8 for 2g
I got rampant blue! Can match it with the blue gel eye liner Jann gave me leh =D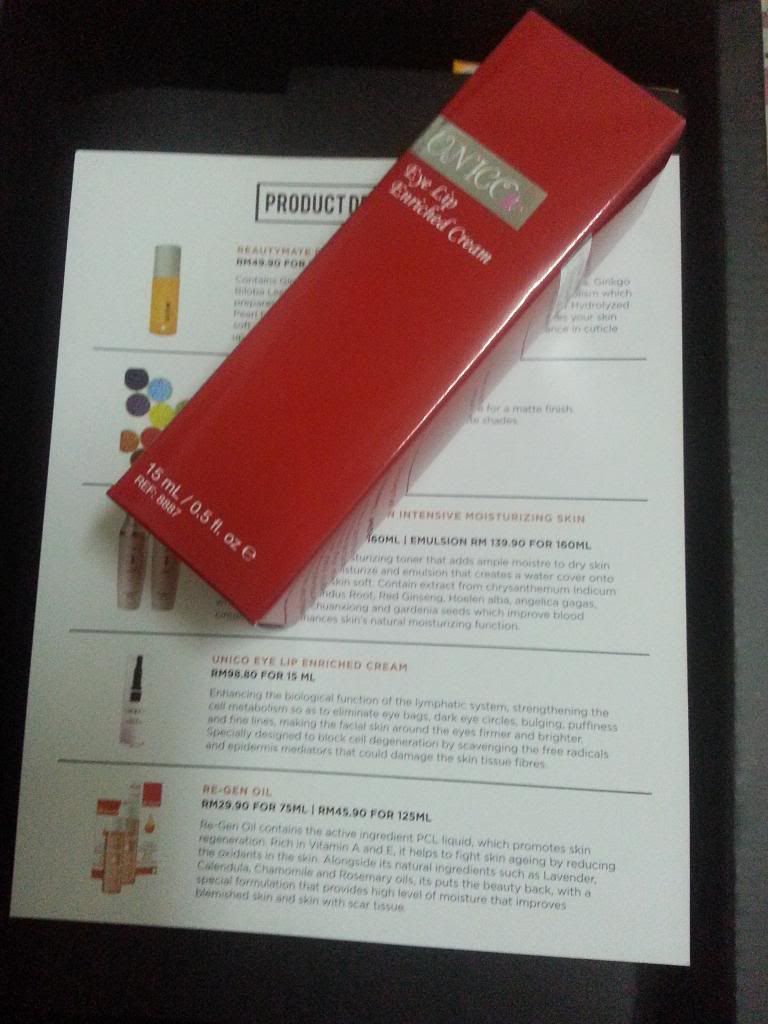 UNICO Eye Lip Enriched Cream, RM98.80 for 15ml
Tbh I will never buy such product in my whole life and I got the full size in my RM38 monthly subscription zomfg!
Re-Gen Oil, RM29.90 for 75ml / RM45.90 for 125ml
This is obviously in sample-size. There are 3 sample packets in the box =)
Bugger erjie said it suits me wtf. STFU.
Foot Pumice Stone
Mami needs it more than me hee
Here's the full content: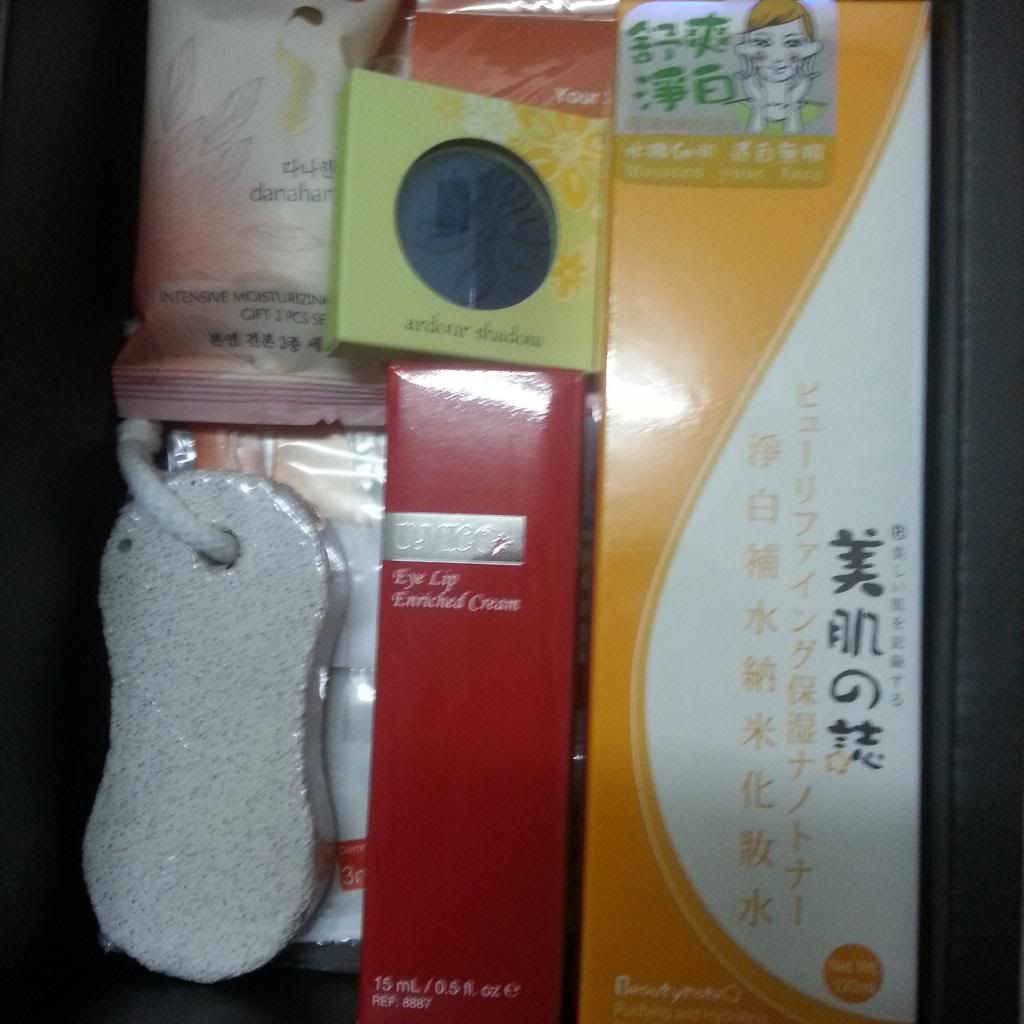 Ooh I left out the sample sized Somang Danahan Bonyeon Intensive Moisturizing Skin Toner & Emulsion.
I like their smell, but the only drawback is that the bottle is too hard that I can't get the cream out.
I can't really comment on the products as I've just used them for like, a few days(?) Somemore my skin is non allergic ahaha #lanci I just hope the eye lip enriched cream will help as my dark circle is really really serious wtf.
For people who don't makeup like #soulmate, I'd suggest that you can collect the cosmetics and reuse one of the boxes (that is, if you subscribe it for a few months) - you don't even have to wrap as the box is already pretty enough - and it's already a nice gift to your girl friends! =D
If you're interested to subscribe the box, here's my referral url (click
me
!) Well... Since you're subscribing anyway, why don't you help me get some referral points?
Pretty please?